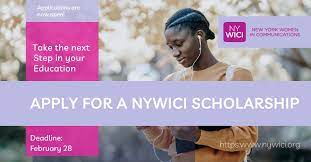 The New York Women in Communications is now accepting scholarship applications, with a deadline of February 28th.
The non-profit organization aims to help female full-time undergraduate and graduate students pursuing a career in communications. Scholarships awarded to recipients range from $2,500 to $10,000. Students that reside in New York, New Jersey, Connecticut or Pennsylvania, or who live in a different but attend school in New York, are eligible to apply.
There are currently eight scholarships open for students, such as the Beverly Wettenstein Scholarship for Women's Studies that annually awards $5,000 to a college student pursuing journalism. Others like the Interpublic Group (IPG) and the Ellen Levine Memorial Scholarships include paid summer internship opportunities.
Recipients receive a one-year complimentary membership into NYWICI and are invited to a number of events throughout the year. They will be given a chance to contribute to the organization's "newsletter, blog, and/or social media," according to its website. In turn, they are expected to act as an ambassador of NYWICI at their school.
Students interested in any of the NYWICI scholarships can apply directly on its website at nywici.org.