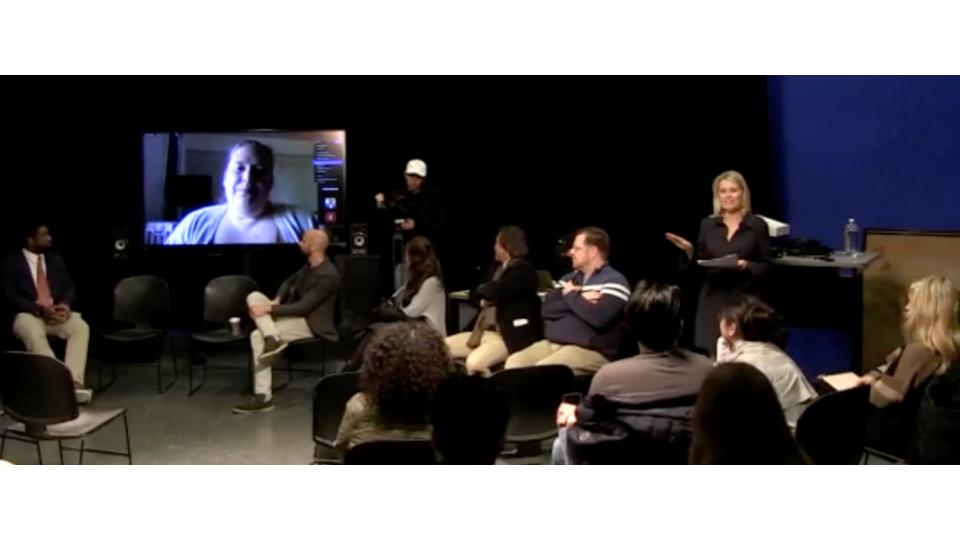 Hunter College's Journalism Program held its Fall Information Session to speak to students about spring courses and internship opportunities. Students heard from several professors and networked after the session.
The event kicked off with CBS MoneyWatch reporter and Reporting and Writing 1 Professor Khristopher J. Brooks, who talked about his class and what he intends to provide to his students.
"When you leave my class, you're self-aware of how you've written in the past, how to fix those mistakes, and what things you have to do during your time at Hunter and further your career to inch you closer to becoming the best writer you can be," said Brooks.
Journalism Advisor and Director Sissel McCarthy also told students about a new class, Social Justice Journalism, which Professor David Alm will teach. If you're interested in this course, please enroll using "MEDP 39961" when creating your schedule.
Hunter journalism graduate and Emmy award winner Chelsea Narvaez also stopped by to talk about her undergraduate experience and how she landed her job at CBS News.
"Network with the people around you, and don't be afraid to take advantage of the opportunities Hunter provides and make some sacrifices along the way," said Narvaez when asked what advice she would give students.
David Pavlosky, the journalism program's internship advisor, talked about some of those opportunities and emphasized the importance of signing up for the Film and Media Listserv.
"The F/M Listserv is key because every internship that our department gets through another individual or me is posted and comes to you directly," said Pavlosky. "Your internships are actually a bridge from the classroom to your career."
To join the F/M Listserv and receive the latest Film and Media news, email listserv@hunter.listserv.cuny.edu and leave the subject line blank but write SUBSCRIBE fm-l in the body of the message.