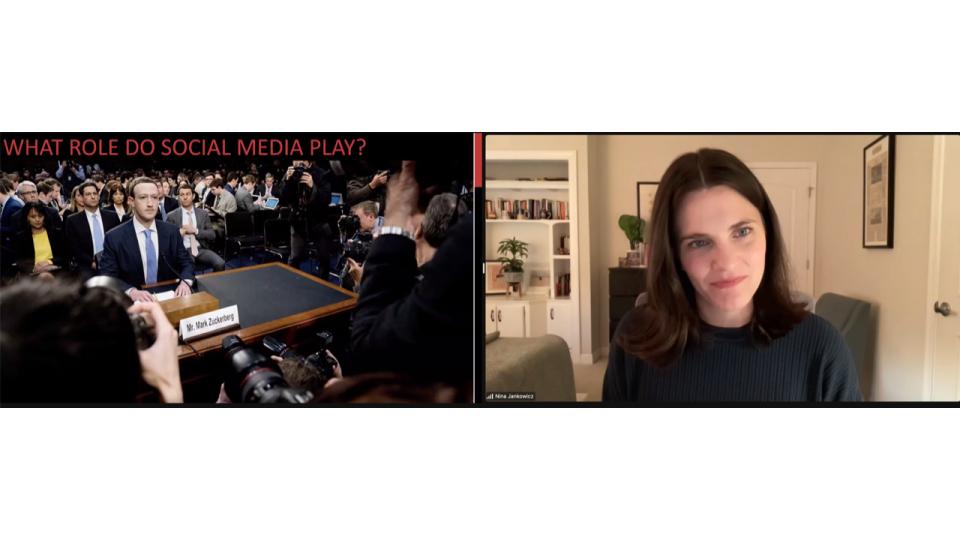 Anyone who spends time on the internet knows how challenging it is to figure out what's true and what isn't. But misinformation expert Nina Jankowicz helped some Hunter College students learn how to spot false claims and propaganda during her talk, "How to Win the Information War."
Jankowicz testified before Congress, the UK Parliament, and the EU about the effects of disinformation and freedom of expression worldwide. She earned her master's degree at Georgetown University's school of foreign service and graduated from Bryn Mawr College, where she studied Political Science and Russian.
Jankowicz's informative presentation included ways to address disinformation, things to look for online, and strategies to verify information.
Students had an opportunity to ask Jankowicz questions during a Q&A after her talk on "How to Win the Disinformation War."
Q: Russia is trying to distract America to undermine our democracy, but is there anything America is doing in return?
A: I wish there were more that we were doing. We are certainly more active abroad and have yet to figure out how to deal with Russian disinformation at home.
There is an entity in the State Department called the Global Engagement Center. They are funding programs around the world that are meant to counter disinformation, and often what they look like is local media, investigative journalism, fact-checking initiatives, and initiatives that support local civil society organizations so that those organizations on the ground can fight back against disinformation.
They're pretty small scale right now, especially when you compare the scale of what Russia is doing with millions of dollars of investments to influence and spread disinformation.
Q: Earlier this year, the EU passed the Digital Services Act intending to address harms caused by social media. Can it be an effective measure to counteract Russian campaigns of disinformation?
A: The Digital Services Act (DSA) is more focused on the harms that everyday citizens encounter online, so it might have a hate speech and algorithmic bias. There are some measures to compel transparency on behalf of social media platforms. Looking at content moderation and how they're fighting foreign disinformation are examples, but it's a more global piece of legislation.
The DSA provides users with a better roadmap for how social media platforms operate and hopefully introduces more transparency.
It's interesting that the EU is doing this before the United States, so we'll have to see how implementing the Digital Services Act goes for them as we continue toward regulation in our spaces here.
Q: What kind of regulations could Congress pass to lessen the spread of disinformation?
A: There are a couple of things to do with transparency that would be useful for consumers and the government to understand better how disinformation is spread.
Right now, we must trust that what social media platforms tell us is true because we currently cannot verify that. And we also need to see regulations around online electoral ads, who's paying for them, and how they're being targeted. Facebook has done that voluntarily, but not every platform has, so we need more regulations, like radio, TV, and print ads.
We also need a federal internet commission similar to the Federal Communications Commission that is going to be made up of non-partisan experts who are going to be overseeing regulatory mechanisms for the internet. We need to think bigger about the oversight of this integral tool that we use daily that affects our lives, safety, public health, and democracy.