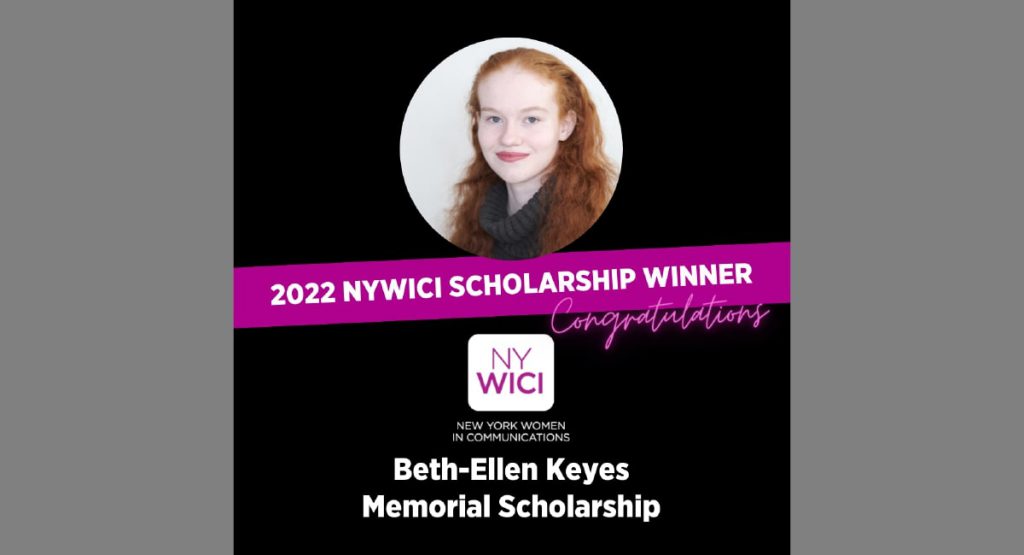 Growing up, Nora Wesson often found herself sitting at the kitchen table rifling through the morning paper. While she enjoyed keeping up with the news, she never planned to pursue journalism as a career. It wasn't until she enrolled in Professor Alm's class News Literacy in a Digital Age that she discovered her passion for journalism.
"I never really thought about journalism as literature," she admitted. However, her perspective shifted quickly as she started to learn the ins and outs of the field. "It doesn't always have to be sort of cut and dry… you know there is poetry in journalism."
Now, a journalism major approaching her final semester at Hunter, she is the proud recipient of the Beth-Ellen Keyes Memorial Scholarship from the New York Women in Communications.
NYWICI is an organization aimed at inspiring, uplifting and supporting female communications professionals. Every year the organization awards scholarships ranging from $2,500 to $10,000 to its applicants embarking on or advancing their careers in the field.
"It's really important to have organizations like these to support and encourage women to enter these fields in the first place," said Wesson, adding that this scholarship will fully fund her final semester at Hunter.
Wesson credits the skills she learned in her journalism courses for helping her put together a strong application.
A member of the Thomas Hunter Honors Program, Wesson also works as a contributing reporter for Upper East Site, a local news website about the Upper East Side that has published her work.
There, her guiding principle has been to focus on people who may not have a voice.
"You have to care about your sources, and you have to want their stories to mean something in the way that you're writing them," she said. Currently, Wesson is working on stories about the neglect in NYCHA buildings.
In the future, Wesson hopes to see herself working at a print news outlet. And in a poetic circle back to her youth, she said, "I hope to see my name on a physical piece of paper at least once before every newspaper is just outlawed."