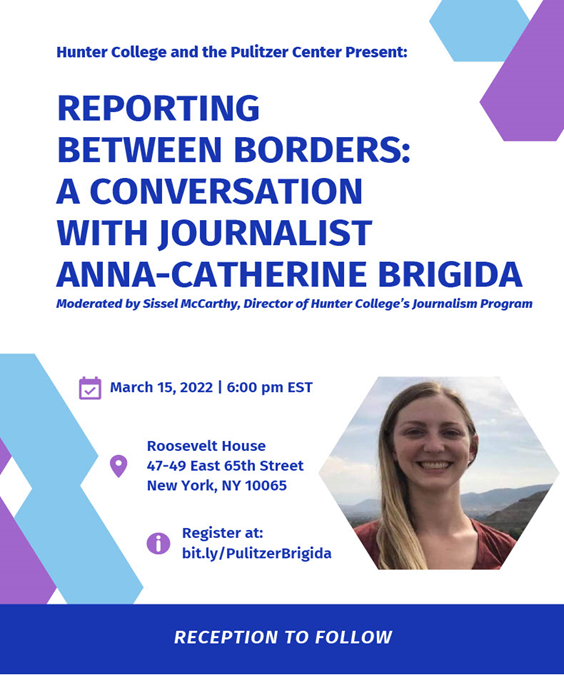 Journalist Anna-Catherine Brigida will be discussing her report, "From Texas to Central America: How Tough Policies in the COVID-19 Era Are Endangering Asylum Seekers," in an in-person event at the Roosevelt House on Tuesday, March 15 at 6 p.m. Director of the Hunter College Journalism Program, Professor Sissel McCarthy, will moderate the event sponsored by the Pulitzer Center.
At the height of the COVID-19 pandemic, Brigida spoke to multiple migrants about their experiences at the border to shed light on President Trump's migrant policies and their impact on migrants as the virus spread. Her article follows people like D.T., an asylum-seeker and doctor who was forced to leave Cuba for the U.S. because of abuse and suffering while she was pregnant.
"We chose D.T. both because we thought her story was powerful and because she was open about sharing her story," said Brigida. "I think that she was a person who found sharing her story to be empowering."
In addition to the "Remain in Mexico" program that closed the border to all migrants and asylum seekers, Brigida's report talks about deportation, violence surrounding the shelters and injustices by U.S. immigration court officials.
Brigida's work was funded by the Pulitzer Center, which offers Hunter College students a fellowship each year to travel overseas to cover an under-reported story.
Kem Sawyer, head of the Pulitzer Center Campus Consortium and host of the event, hopes that, by detailing her experience, Brigida will encourage journalism students to tackle tough issues.
"I'd like journalism students to be inspired to report on subjects they care deeply about," said Sawyer. "If you are interested in international reporting, find ways to immerse yourself in the culture."
To attend the event, RSVP here: bit.ly/PulitzerBrigida