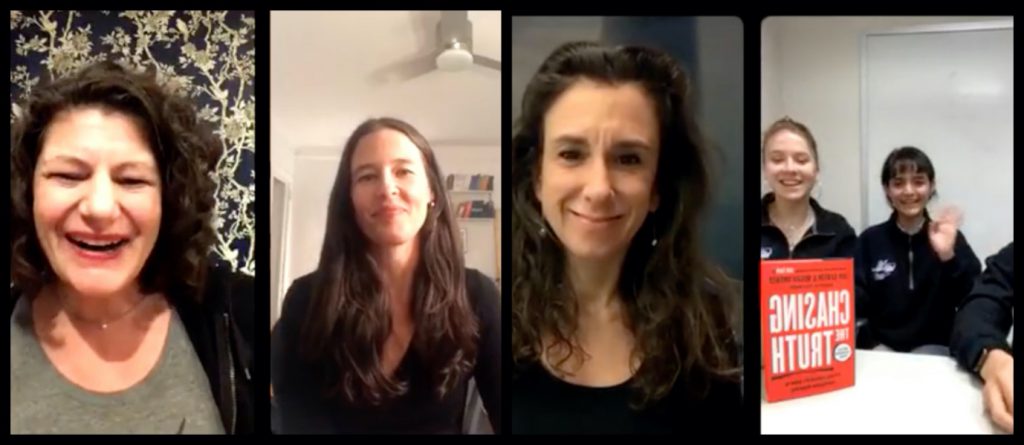 Award-winning New York Times reporters Jodi Kantor and Megan Twohey told student journalists they empathize with them and understand how difficult it is to report on their own schools.
"I personally think that the journalism we do at the New York Times is in some ways easier than what students have to do because we have so much more support," said Kantor, co-author of Chasing The Truth, a guide to investigative journalism for students.
These comments surprised Hunter College Journalism Professor Katina Paron.  
"To me, the thing which is interesting is they said several times how much harder it is to be a student journalist," said Paron, who moderated the talk at The Student Press Law Center's Instagram Live event.
Kantor and Twohey also talked about the value of written documents, the compassion required of investigative journalists and the difficult position student journalists find themselves
Answering questions from the student editors of The Classic, Townshend Harris High School's newspaper in Queens, the two Times journalists discussed what a journalist needs for a robust and rigorous investigation.
The editors of The Classic, Ryan Eng, Julia Maciejak and Jasmine Palma, asked pointed questions about knowing where to find sources and evidence.
"The nature of investigative journalism is that you have to ask really hard questions that you don't know the answers to at the outset of reporting," said Kantor. "Be very creative, try and always try to go to the people who were most intimately involved themselves."
The Times journalists highlighted the importance of written documentation and its value in investigative journalism.
"I think that people respond so powerfully to written proof," said Kantor.
Although her video kept cutting out and her audio kept playing at the wrong time Megan Twohey, co-author of Chasing The Truth, went into detail about the importance of documentary evidence.
"What are the consequences if they give you those records?" said Twohey. "What are the records that may be in the public domain that I can seek through a formal request? Are there any other types of records as you talk to sources?"
The Classic editors were also curious about how to deal with emotions of working on such deep investigations. The Times journalists stressed the importance of having a support network to make sense of their experiences.
Twohey also discussed her investigation of a suicide website and the mental health challenges of children and teens. "It was also very emotionally taxing for us as reporters, to report into that and to really immerse ourselves in such a river of pain and suffering," said Twohey. "The more that we can be upfront about that and the more that we can help take care of each other, the better."
But there's more to investigative journalism than difficult emotions and the burden of proof, Kantor and Twohey explained. It's rewarding in and of itself.
"One of the reasons to go into the profession is that it's a permanent license to ask any questions you want," said Kantor.