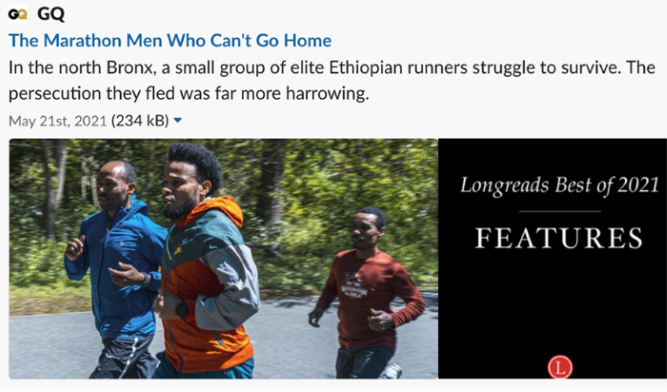 Professor David Alm's May 2021 piece for GQ, 'The Marathon Men Who Can't Go Home,' was named one of the Best Features of 2021 by Longreads. Only six feature stories were selected for the category that included acclaimed pieces from The New Yorker, The Atlantic, The New York Review of Books, New York Magazine, and Atavist.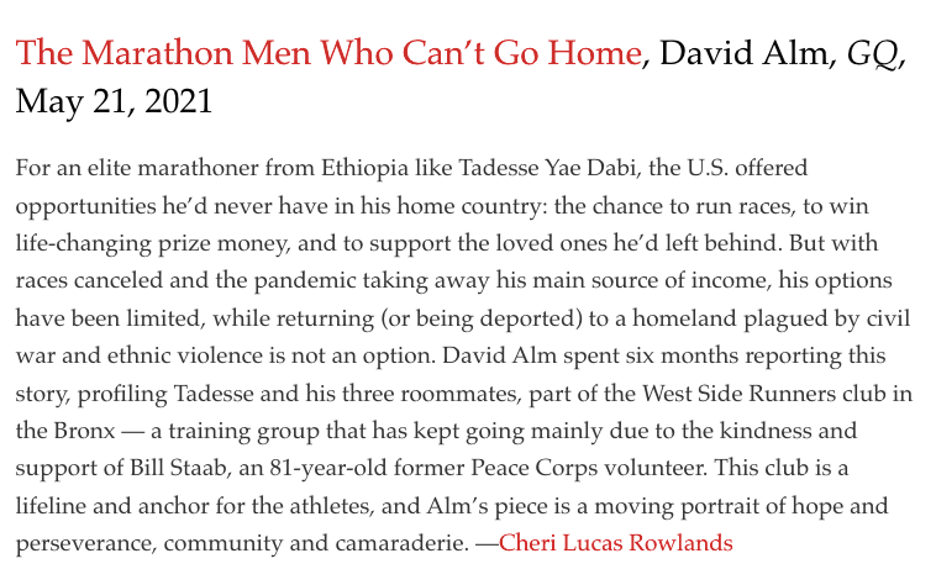 Longreads was founded in 2009 as a curator of the best in longform journalism, promoting newly published work each day, and then announcing "Best of Week" lists each Friday. In December, it announces its "Best of Year" lists in a range of categories.
"I am enormously honored to be included in this list for my piece," says Alm, who spent six months reporting the story, devoting countless hours to the runners and to the man who helped them come to America. "I am in tremendous company and grateful to Longreads for recognizing the value of this story."
Prof. Alm's story is a deep dive into the lives of four elite Ethiopian runners in the Bronx who fled political persecution in their home country only to find an often-desperate existence in their adopted one, where they struggle to survive on meager prize money and under-the-table "cash jobs" so that they can support their families back home. When it was published last spring, Katie Couric identified it as a "must read" in her weekly newsletter.
Check out Prof. Alm's story here: https://www.gq.com/story/ethiopian-marathon-runners-bronx-