Journalism Education One Tweet at a Time
By Katina Paron
As someone who has worked with beginning journalists her entire career, I should be unphased by giving different writers the same feedback multiple times a week. "Rewrite this lead so it is not a generalization." "Where is your nut graph?" and "This quote is missing attribution" are some popular first draft comments.
A lot of the early mistakes are standard and even if a writer knows they should follow AP Style guidelines for dates and standalone cities, that doesn't mean they always do. So while I know making mistakes and learning are all part of the process of becoming a professional journalist, sometimes repeating myself in Google doc comments feels like shouting at the rain. Can anyone hear me when I tell them to "Stick with said." for the attribution or "Don't lead with background."?
During one particularly frustrating day of editing first drafts for teen-written, "The Future is Ms." Column I produce for Ms. Magazine, I decided that if I tweeted out my comments, maybe a young writer would see it and save some other editor a gray hair or two.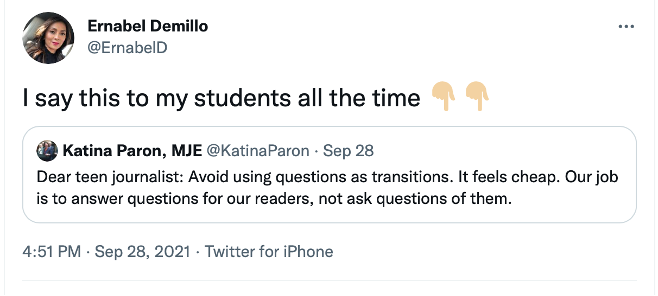 One hundred and fifty posts later, those "Dear Teen Journalist" tweets took on a life of their own. The goal is always to educate and provide writing advice to young reporters. Based on the feedback, there seem to be many journalism teachers and professors who also find value (and validation) from my posts. There is now a @DearTeenJournalist Instagram that presents the messages as an animated gif in a cool typewriter font.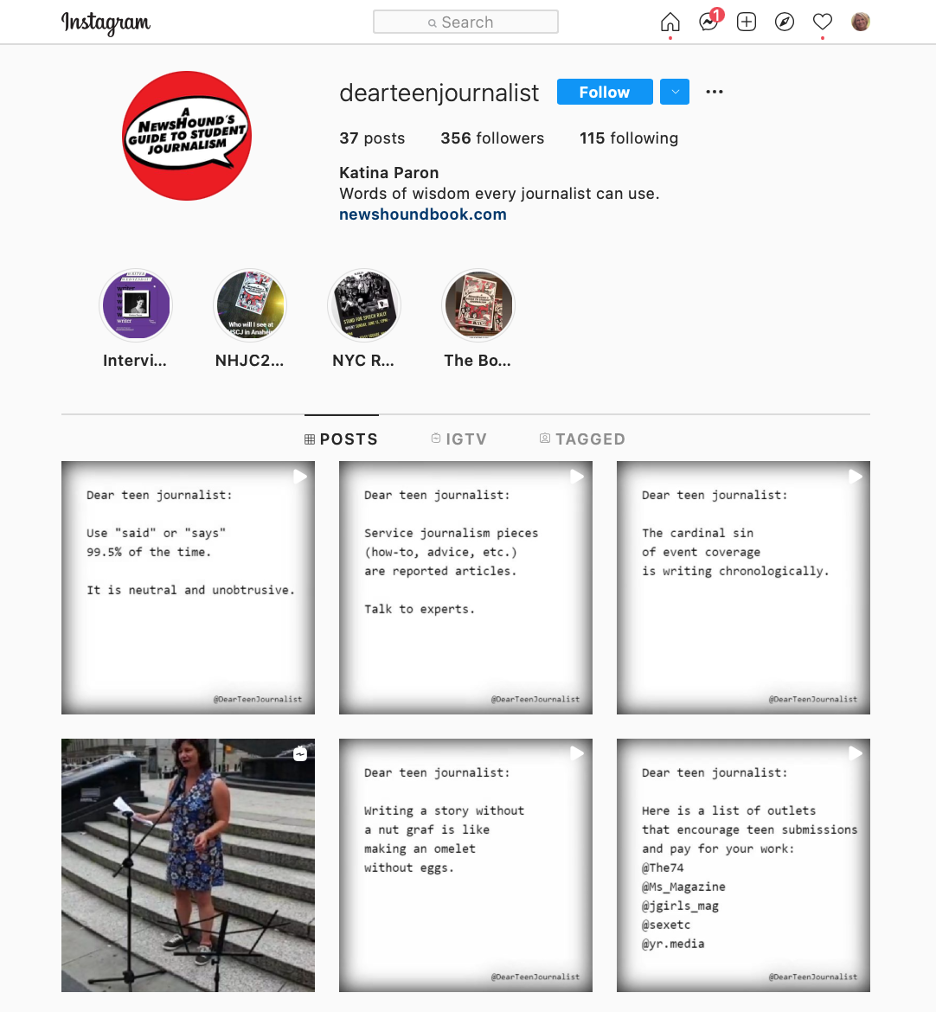 So now whenever I find myself giving feedback that I've given hundreds of times before, I don't get frustrated. Instead I see it as a challenge to rephrase my message and produce more journalism tips for social media. After all, as Nora Ephron said, "Everything is copy."
Follow Dear Teen Journalist on Twitter and Instagram and check our Professor Paron's book: "A NewsHound's Guide to Student Journalism" https://newshoundbook.com/