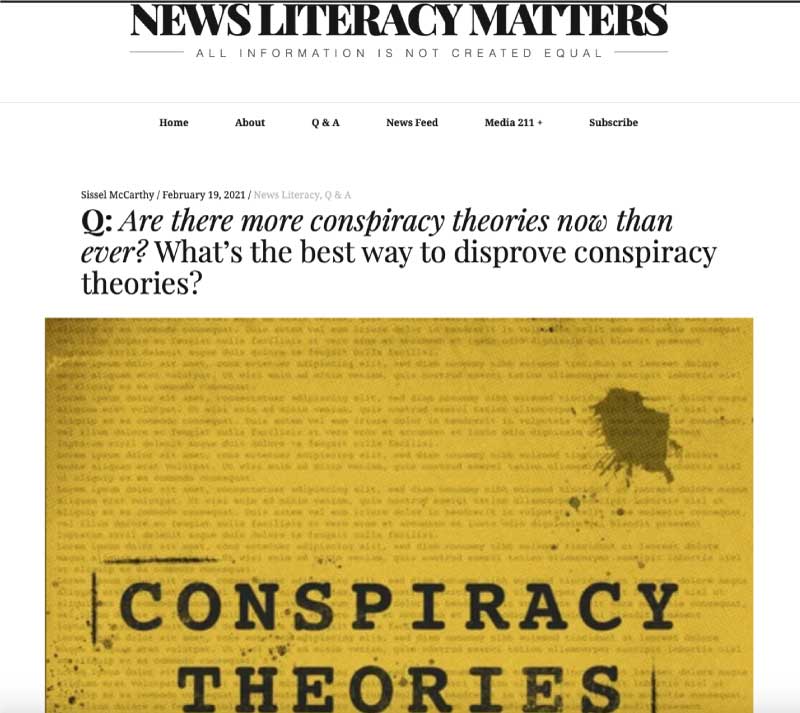 Students in MEDIA 211 will be investigating conspiracy theories in a semester-long group project this spring. They will be looking at the allure of these deceptive narratives and who in the media is amplifying them – and why. 
Student teams have already discovered that the global pandemic and 2020 election are fertile ground for conspiracy theorists. According to a Shorenstein Center poll, about 30 percent of the public believes the virus was intentionally created and spread, while three-quarters of Republicans believe there was widespread fraud in the 2020 election, according to a Quinnipiac poll last month.
Students will be investigating both of those conspiracy theories as well as ones surrounding QAnon and the death of Jeffrey Epstein.
According to a post in NewsLiteracyMatters.com, conspiracy theories are nothing new and date back to Roman times, but social media platforms and chat rooms have enabled them to take root and spread quite virulently.
Although there is no cure for the timeless appeal of conspiracy theories and the genuine dangers they pose, experts say news literacy skills can prevent these radical ideas from gaining traction, which is much more effective than debunking them after they've been widely embraced.