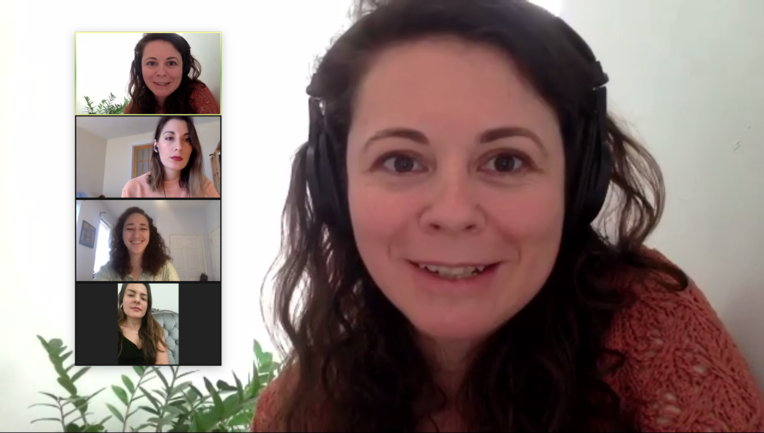 Working as a freelancer during the COVID-19 pandemic can pay off — if you know the focus of your story.
That was the advice, along tips and tricks, for beginning freelancers in a Zoom webinar May 13, moderated by Professor Susie Armitage with panelists Daisy Alioto, Yana Paskova and Caroline Lewis, sponsored by the Hunter Journalism program. All panelists belong to the Freelance Solidarity Project, a recent addition to the National Writers Union that aims to protect freelance media workers.
The webinar encouraged young journalists to make virtual connections, fearlessly pitch publications and follow up.
"You never know where those conversations or those relationships will go — and that's true during a pandemic, and it'll be true when all of this hopefully passes," said Alioto, a freelance reporter and social media strategist.
Finding a beat
Finding connections and sources through social media can get story ideas flowing.
"Talk to people and make connections with them," said Lewis, who covers health journalism for Gothamist and WNYC. "That's how the stories come to you, as opposed to every time thinking, 'Oh my God, what am I going to write about next?' "
Lewis also suggested "spamming yourself" with sources and information that interest you. If you have a specific storyin mind, she added, read everything available on the topic, sign up for Google alerts and newsletters from publications that cover it, and follow sources on social media to find more information.
The art of pitching
For young journalists, pitching can be uncharted territory. Brainstorming a specific story and not just a topic, is an important distinction to make before sending out your idea.
"I'm not going to pitch a story until I know what the headline is."

— Susie Armitage
"I'm not going to pitch a story until I know what the headline is," said Armitage, adding that knowing the "deck," or the sentences below the headline, is also helpful in finding the essence of the piece.
The bones of a good pitch include:
A well thought out, working headline.
Introduce yourself. A few sentences about the work you've done and who you are.
Grab their attention with a strong lede.
Follow up with your nutgraf, describing the core of the story.
Prove you have access to sources that can help you deliver the piece.
Always thank them for their time.
When searching for the right person to pitch, Twitter is your friend, said Armitage. Google the senior editor of the publication, but double check their Twitter bio to make sure that's still accurate, she Armitage. Oftentimes, it will be the most updated resource.
When to follow up?
A week after your pitch is sent out, make sure to follow back up with the publication. "Editors receive a lot of pitches, per day, per minute sometimes," said Paskova, a freelance photojournalist. Keep this in mind, and don't be discouraged if you don't hear back initially.
If the publication says no, use it as an opportunity to learn by asking a follow up question.
"If the editor hasn't explained why it doesn't work for them, try to understand why not, so you can consider that next time you decide to pitch that publication," said Paskova.
Sending an email inquiring for an informational interview can also help get your foot in the door, she said.
Alito added not to be afraid to ask, " 'Hey, would you get a virtual coffee with me, or have a short 20 minute phone to tell me about your career.' Even if they're not hiring, there's valuable information you'll get from that call."
Most importantly, concluded Paskova, be relentless. "Pitch it somewhere else. … Don't just give up on the story."