Even with social distancing, journalists can readily use social media and trending search reports to not only safely find sources during the coronavirus outbreak, but also to foster relationships in hard-to-reach communities.
That was the advice from digital journalist Amara Aguilar, in an April 22 webinar, "Covering the Crisis: Street Reporting Without the Street." Aguilar, who is a professor at USC Annenberg, highlighted many accessible (and oftentimes free) tools for finding new sources while working from home during the pandemic.
She emphasized three main approaches for reporting from home:
Utilize digital search tools on social media to find sources
Tap into groups and communities through census material, and
Launch "callouts" to gather information through surveys or polls.
Choosing the right platform
Finding new sources and current story ideas can be as simple as using Google, Aquilar explained, pointing to multiple search engines available for free through the platform, including Google advanced search, Google Scholar and Google Trends.
Google Trends could be especially helpful when searching for hot-button story ideas, as it gives an inside look at trends for the most commonly searched items over time.
Social media is also a great way to find sources celebrating or airing grievances that might not be available elsewhere, she added.
From advanced Twitter searches to Instagram geotags, there is a way to personally engage individuals with empathy, said Aguilar. Don't be afraid to direct-message someone, with clearly stated intentions and an introduction.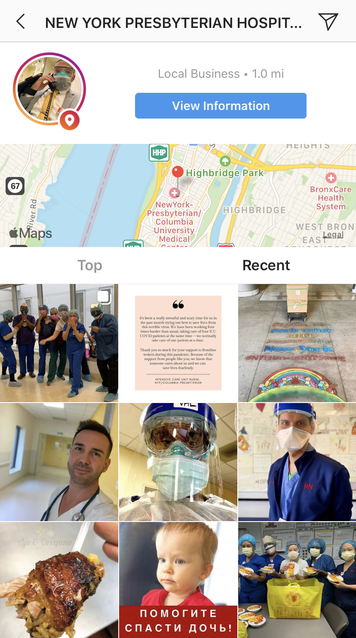 In relation to the coronavirus pandemic, Aguilar had webinar attendees search the nearest hospital on their Instagram geotags to see what came up. In New York, hundreds of posts were visible, (see graphic at left), from hospital workers thanking small businesses for providing lunch to babies and moms safely going home.
Try not to discredit where people blow off steam, she suggested — places like TikTok can also be fruitful when searching for individuals working on the frontlines and celebrating small victories or curating dances to remind people to wash their hands. Targeting Facebook groups can also be incredibly helpful when looking for specific information, Aquilar noted.
Reaching hard-to-find communities
When it comes to bringing to light issues that need coverage, Aguilar noted the value in callouts or surveys asking for information on specific demographics, like the LatinX community. Making such callouts shareable, targeted to specific ideas and directed at like-minded organizations and people can increase the odds of community engagement.
"Who are the people we're not reaching?" asked Aguilar, who advised rooting out gaps in media coverage by thinking of new stories to tell and voices to uplift. "What are some of the issues people are facing and are they being addressed?" she said.
The main objective when approaching sources from behind a screen is maintaining humanity, Aguilar emphasized, something that happens instinctually when face-to-face. In order to avoid treating someone like a blip on the screen, she suggested being as empathetic, direct and human as possible.
Avoid "parachuting" into communities as soon as breaking news occurs, Aguilar added, but allow trust to grow over time through genuine interactions.

Oftentimes, she acknowledged creating trust in new communities can take time, but not to become discouraged. When fostering relationships in hard to reach groups, try to approach people through social media or alternative resources before a major event occurs. Avoid "parachuting" into communities as soon as breaking news occurs, Aguilar added, but allow trust to grow over time through genuine interactions.
Because people are so varied, approaches to finding them must be too. "Behavior can be really important because behavior helps us know where to look," said Aguilar, reminding webinar attendees that not everyone uses the same type of social media.
Although the internet provides endless resources, try to narrow down the search by getting specific, she suggested. Not everyone is a target. Find out what platforms are utilized by certain demographics in order to find exactly what you're looking for.
"People are multilayered and not just that one identity," said Aguilar, advising against making assumptions of people but always giving a voice to under-served communities. The key to searching for new story ideas and resources: "Where are the gaps in reporting, and how can they be filled?"
For more tips, watch the full webinar or view the slides made available through the webinar host Center for Health Journalism.