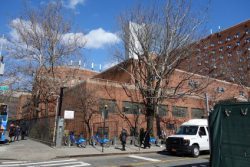 March 24, 2020, by Afia Eama, The Envoy
Update 3/25: Housing-insecure students will be sent to live at Queens College according to The City. Students residing at Hunter's Brookdale and 79th St. dorms were told Tuesday to move out by Friday, March 26. Combined, these dorms house several hundred Hunter students.
This announcement comes two weeks after Governor Andrew Cuomo's decision to cancel in-person classes at the state and city universities but keep dorms open to accommodate residents due to the COVID-19 outbreak. READ MORE.