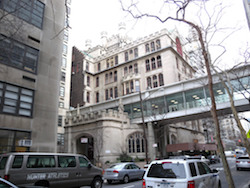 March 18, 2020, by Lauren Hakimi, The Envoy
CUNY's faculty union, the Professional Staff Congress, is calling on campus libraries to close in light of the COVID-19 outbreak, according to a press release sent on Wednesday.
"Our members should not have to put their lives and the health of the city in danger by being ordered to come to work in a city that is rapidly shutting down," said Barbara Bowen, President of the PSC, which represents librarians as well as professors and other full- and part-time staff members. READ MORE.