Hunter journalism students joined high school and college journalists around the country to celebrate Student Press Freedom Day on Jan. 29.
Thanks to a grant from the Student Press Law Center, Hunter's Journalism Program marked the occasion with a table outside the Hunter West cafeteria to celebrate the contributions of student journalists and raise awareness about the importance of student news outlets on campus, including The Envoy, The Athenian, WHCS Radio and the biweekly newscast, Hunter News Now.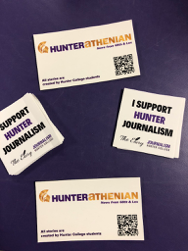 People stopped by for snacks and a sticker that read, "I support Hunter Journalism."
Six teams of Hunter News Now reporters also fanned out across the third floor of Hunter West to interview people about their opinions on the freedom of the press, the First Amendment and journalism on campus.
Several people mentioned they want to see stories about the new Starbucks proposed for the space at Lexington Avenue and 67th Street, preparations for a possible outbreak of the coronavirus and Hunter's 150th-anniversary events.
Jan. 29 is the anniversary of a Supreme Court decision in 1988 known as Hazelwood School District v. Kuhlmeier that allows school administrators to censor student journalists in some instances.
Students in New York are lobbying for a New Voices bill that will strengthen protections for student journalists. So far, 11 states have introduced this new legislation, and momentum is growing across the country this year, according to Hadar Harris, executive director of the Student Press Law Center.