By Rama Alherish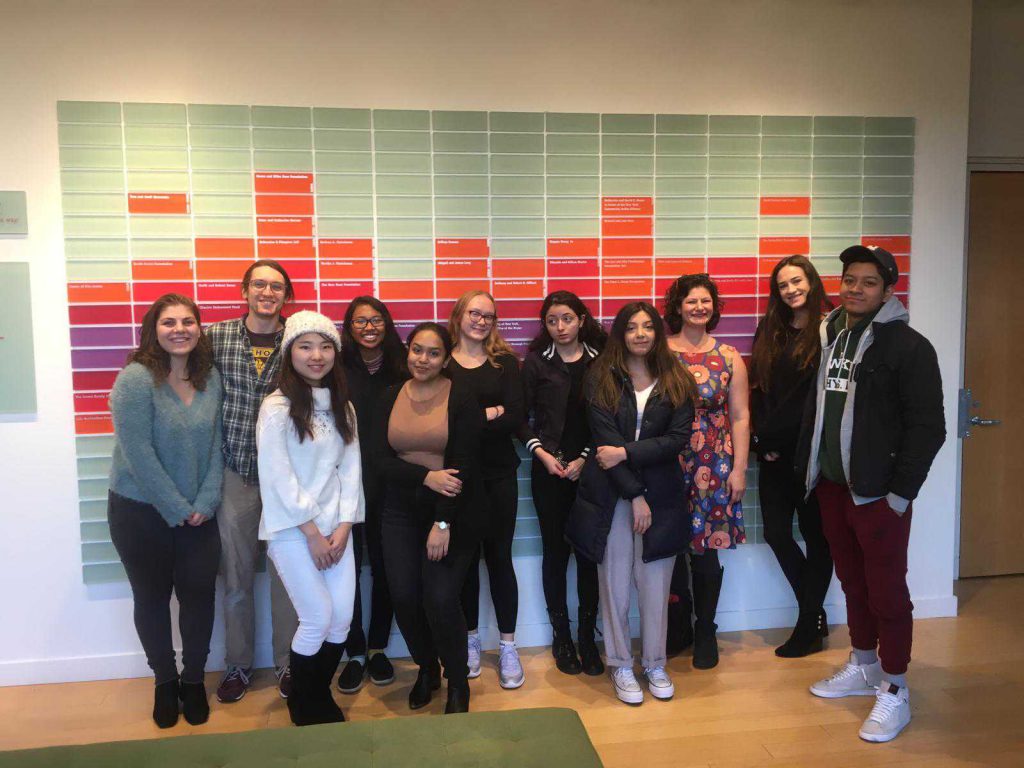 Hunter Journalism's Neighborhood News class visited the Tribeca headquarters of New York Public Radio in November.

During a tour, led by Rebecca Weiss, a senior listener services associate, students saw vintage microphones displayed as art throughout the station's two-and-a-half floors, whose boldly-colored walls are decorated with pictures of journalists and broadcasters from the station's past. Two live music spaces are also used by the co-owned classical music station WQXR.

Originally a city-owned property, the non-profit, noncommercial, broadcasting station was put up for sale by Mayor Giuliani after 9/11. A group came together and formed the non-profit WNYC Foundation and bought the station for $20 million in order to keep it for the public.

Along with two call-in shows — "The Brian Lehrer Show" and "All of It with Alison Stewart" — the NPR-affiliate is also on top of its podcast game. There's "Dolly Parton's America," which is exclusively centered around America's famous country singer, and "Nancy," a show about the queer experience.

One of the station's most popular podcasts is "Trump Inc.," a nonpartisan look at the financial dealings of the current president. Produced in partnership with ProPublica, recent episodes looked at "the business of conspiracy" and the financial gains of quid pro quo.

WNYC Staffer Offers Advice to Student Job Seekers
Alice Wilder, associate producer of "Trump Inc," likened her job to "planning a family vacation." She was hired at WNYC after a series of internships and fellowships, and encouraged the journalism students to take coworkers out for coffee to make an impression on them.

In one of her cover letters, she included a personal anecdote of getting her bag stolen by leaving it in a car on her way to report a story. She didn't get that job but her application was memorable enough that she was recommended for another job that she did get. She encourages applicants to mention their connection to the show they are applying for.

"Show me you're actually listening to the show," Wilder said. "People can tell." Mention a specific moment in a podcast or news show that the applicant particularly liked or changed the applicant's personal views about audio or news, she advised.

NYPR's many paid internship opportunities involve all the departments at the stations, from news shows to podcast to development and accounting. Gothamist, a local news site WNYC revived in 2018, also offers job training positions.
During an earlier Neighborhood News class, students also heard from Eileen Grench of The City, an independent, nonprofit news outlet covering New York. Grench told the students, "I really do believe in the power of local news and that you can do really good investigative work locally but have a huge impact, bigger than the impact than the investigative work that happens nationally and internationally." PHOTO: Henry Fernberger