Veteran journalist Stephanie Siek spoke to Hunter's News Literacy classes on Nov. 13 about verification, objectivity and forging a path as a journalist of color in some of the country's most prestigious newsrooms. 

Siek, who has worked for CNN, The Associated Press, The New York Times and now MSNBC, explained how she verified photos, video and information found on social media during major breaking news stories.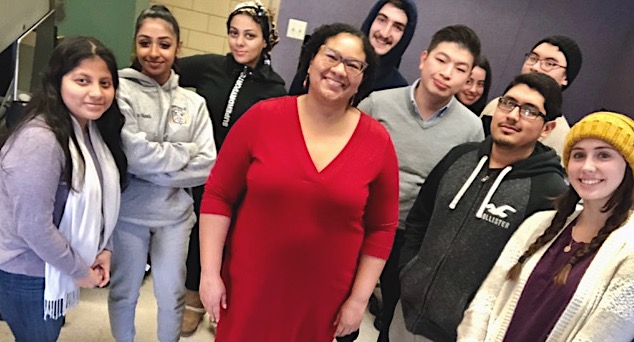 This included an attempted terrorist attack on a train in Europe, in which she got the first interview among English-based media with one of the Americans who thwarted the attack. The episode (although regrettably not Siek's role) was later turned into a movie, "The 15:17 to Paris."

Her work on social media was also instrumental in the AP's coverage of protests in Ferguson, Mo., after the death of Michael Brown. She first noticed the outrage on Black Twitter and appealed to her supervisors to send a reporter to cover the story on the ground. 

The resulting coverage meant the AP, known as the world's largest newsgathering operation, was reporting the story before many mainstream media outlets had taken notice. 

She noted that her personal experience helped inform her newsroom's position about what was newsworthy — and Hunter students could have the same influence if they pursue journalism careers.

Siek also reflected on shifting from a newsroom that focuses on objective journalism — including the AP, which she described as "aggressively neutral" — to MSNBC, which trades in opinion journalism and analysis. She explained how she tries to make sure all opinions are represented, not just the ones she agrees with.