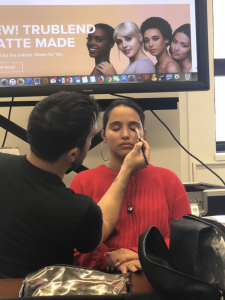 Professor Sissel McCarthy's news video students are camera-ready, thanks to a makeup lesson last week from Glamsquad makeup artist Nick Scalzo.
Scalzo explained to students that high-definition cameras are designed to show detail, including every blemish, wrinkle and scar, but that the right kind of makeup can conceal these imperfections and enhance their look.
Scalzo came to class armed with a whole toolkit of brushes, moisturizers and makeup to teach students how to apply high-definition makeup that diffuses light.
The first step is to clean your face and neck and apply moisturizer, followed by a silica primer that fills in pores and skin imperfections.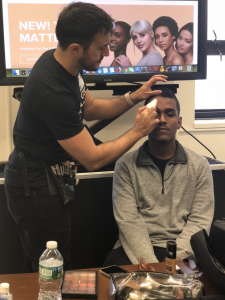 He told students that cameras flatten your features and that you need to use make-up to add dimension and define your best features, especially eyes.
He always starts with the eyes, using a neutral powder as a base and then a darker shade to create shadows, followed by an eye liner and mascara. Then comes the concealer below the eye, foundation and rouge.
The lips are last and the whole application can take anywhere from 20 minutes to an hour.
All the makeup should be a matte finish because that diffuses the light and gives your skin a super smooth look.
Two students, Alexandra Ali (above, right) and Ray Contreras (at left), served as models and left class all glammed up.
And all the news video students left with a bag full of Covergirl makeup, thanks to a donation from the multinational cosmetic company, COTY.