Year:
2020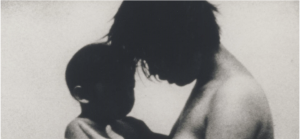 Tue., Feb. 11 | TV Studio (HN436)
Reception: 5:45PM
Screening & Discussion: 6:30-9PM
RSVP free tickets
More info: mluc@hunter.cuny.edu
Kyokushiteki Erosu Koiuta 1974 (Extreme Private Eros: Love Song 1974). 1974. Japan. Directed and photographed by Kazuo Hara. In Japanese; English subtitles. 98 min.
One of the most bizarre and brutally candid love triangles ever recorded on film, Kazuo Hara's Extreme Private Eros is also the portrait of a defiant, righteous, and troubled feminist—the filmmaker's ex-wife Miyuki Takeda—who flouts the constraints of Japanese society by striking out on her own as a single mother; arguing openly with her lesbian lover; giving birth, completely unassisted and on camera, to the illegitimate daughter of an African American GI; and crusading in Okinawa against men in general and American soldiers in particular.
Read More