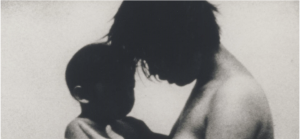 Tue., Feb. 11 | TV Studio (HN436)
Reception: 5:45PM
Screening & Discussion: 6:30-9PM
RSVP free tickets
More info: mluc@hunter.cuny.edu
Kyokushiteki Erosu Koiuta 1974 (Extreme Private Eros: Love Song 1974). 1974. Japan. Directed and photographed by Kazuo Hara. In Japanese; English subtitles. 98 min.
One of the most bizarre and brutally candid love triangles ever recorded on film, Kazuo Hara's Extreme Private Eros is also the portrait of a defiant, righteous, and troubled feminist—the filmmaker's ex-wife Miyuki Takeda—who flouts the constraints of Japanese society by striking out on her own as a single mother; arguing openly with her lesbian lover; giving birth, completely unassisted and on camera, to the illegitimate daughter of an African American GI; and crusading in Okinawa against men in general and American soldiers in particular.
Kazuo Hara is one of Japan's most significant and most controversial documentary filmmakers. His works include Goodbye CP (1972), The Emperor's Naked Army Marches On (1987), and the film that will be screening at Hunter, Extreme Private Eros (1974). His most recent film, Reiwa Uprising (2019) is premiering at MOMA on February 12.
Sponsored by the Department of Film and Media Studies, the Integrated Media Arts MFA Program, and The Japanese Program, Department of Classical and Oriental Studies – Hunter College, City University of New York.