WNBC Web Editor Coralie Carlson told Prof. Sissel McCarthy's news video students to boost their engagement on social media during her guest lecture last week. She said posting on Facebook is a must given its 2.2 billion users worldwide. "It's the big gorilla in the room," said Carlson, adding that YouTube is a close second. Twitter has 335 million users, but since journalists use this platform to break news and promote their stories, she thinks students should also be active there and posting three times a day.
Other top takeaways from her talk include:

open one account on each platform using the same handle
engage with other users
post regularly with visuals
add a comment to retweets
proofread
She recommends the app Grammarly to catch typos and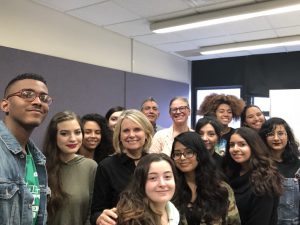 grammar mistakes on social media posts and Canva for adding text to photos.
As for what you should not post, Carlson says stay away from criticism of your boss or employer, profanity, "gym" shots, "humble brags" and political opinions. "Basically avoid posting anything you don't want to see on the front page," she advised.