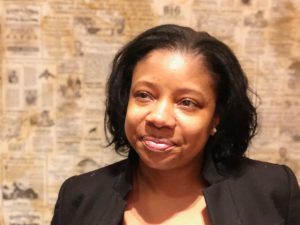 Overseas reporting by Hunter College media studies student Kadia Goba has resulted in publication with the award-winning Pacific Standard. Goba traveled to Sierra Leone last summer on a Hunter College international reporting fellowship, thanks to the Pulitzer Center for Crisis Reporting. She covered environmental challenges related to a deadly 2017 mudslide that killed more than 1,000 people.
Her resulting story, published on Pacific Standard's web site on Oct. 12, focused on a new initiative to close the gender cap in the workplace while helping a rebuilding project. A version of the story was also published on the Pulitzer Center web site, and received a mention in the widely distributed newsletter of Global Health Now of the Johns Hopkins Bloomberg School of Public Health.

Learn more about the Pulitzer Center and its Campus Consortium, and watch for announcements about future opportunities.