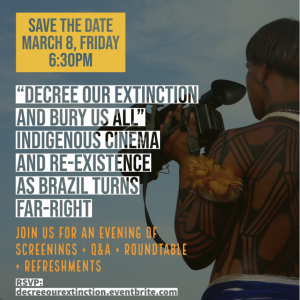 Fri., Mar. 8th | 6:30PM | Lang Hall HN424
RSVP for FREE tickets
Join us for an evening of indigenous film screenings, Q&A with the filmmakers, a roundtable discussion followed by a reception over refreshments.
Guest speaker from Cinema Studies, Visual Anthropology, Etnography, Political Sciences will discuss indigenous issues and indigenous cinema in the face of the rise of far-right governments in both Brazil in the Americas more generally.