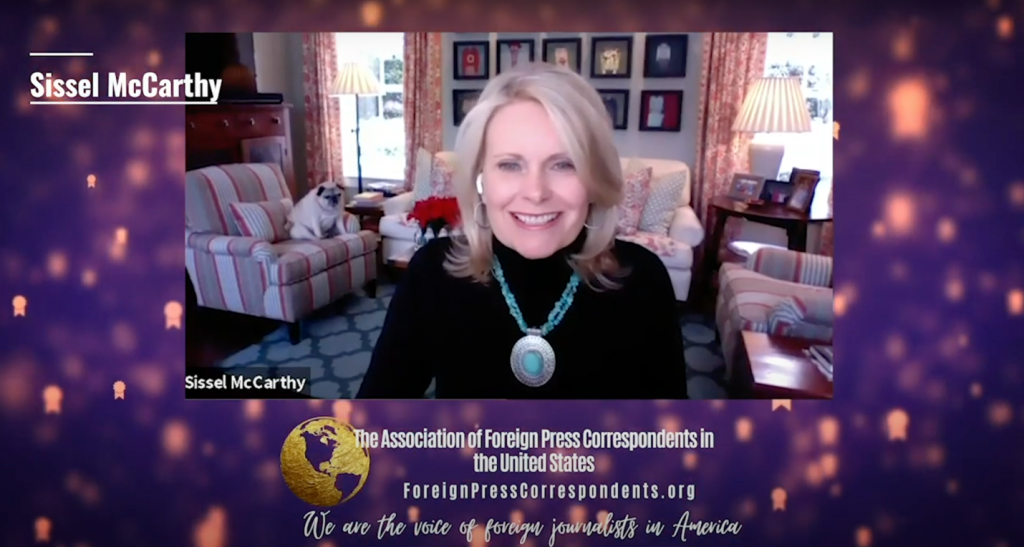 Distinguished Lecturer Sissel McCarthy co-hosted the Association of Foreign Press Correspondents 2020 Awards Ceremony and delivered the keynote address to an all-online audience.
McCarthy's speech focused on the challenges facing the news industry in this era of COVID-19. "The pandemic is an accelerant, intensifying two challenges already facing the news industry: the destruction of local news and the surge of disinformation online," McCarthy said. "Although they may seem unrelated—they're not, and we need to tackle both these problems."
Local news is one of the most significant casualties of the COVID-19 outbreak, according to McCarthy. As reporters work tirelessly to cover the pandemic, she said ad revenue at the local level, which was already in a downturn, is now in freefall. This is creating what is known as news deserts across the United States. "More than three million people now live in communities without any local news," McCarthy said. "And when that happens, studies find that elected officials become less accountable, corruption goes unchecked, and people become more polarized and less likely to vote."
This information void is often filled with misinformation, disinformation, and conspiracy theories. "We now have right-wing outlets on the radio, TV and online that portray themselves as news organizations, but they are really portals to alternate realities where conspiracy theories flourish," said McCarthy, adding that Politifact has just named "claims that deny and downplay COVID-19" the lie of the year.
While there are no quick fixes, McCarthy said we must start thinking about local news as an essential service that should be supported by public funding. She also believes big tech companies should pay for local news consumed on their platforms.
The AFC-USA presented CNN's Christiane Amanpour with an award for her lifetime contributions to journalism excellence and Dr. Anthony Fauci with an honorary award for his lifetime contributions to public service. In addition, seven foreign correspondents received scholarships to continue their graduate studies in the United States.