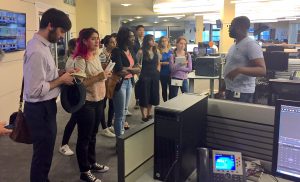 A group of Hunter students got a inside look at the operations of the Manhattan-based 24-hour TV news channel NY1 on Sept. 19.
The 13 journalism students spent more than an hour touring NY1's newsroom, control rooms and studio facilities, while meeting with on-air anchors, reporters and producers at the channel's Chelsea headquarters.
Guiding the group was newly appointed distinguished lecturer A. Adam Glenn and NY1 Associate Producer Elijah "EJ" Stewart (Hunter F&MS '13), who has worked at the channel since 2014.
Among those who spoke with students during the tour were its Emmy Award-winning midday anchor Roma Torres, political anchor/reporter and producer/host of weekly current affairs program "Pura Política" Juan Manual Benitez, criminal justice reporter Dean Meminger, political reporter Josh Robin and senior producer Annais Morales.
The students got a behind-the-scenes look at the how the telecast was put together, watching from a control room as a technical director guided production of a live feed from the floor of the NY Stock Exchange.
And the aspiring journalists were told of the inner workings of NY1's round-the-clock newsmaking operations, including the news assignment process, the handling of big breaking stories, how staff responsibilities were divided and how they could break in to the channel through its internship and freelance writing programs.
The same group of students, along with other of Glenn's journalism students, had also heard on the previous day, Sept. 19, from a panel of early career journalists including Kaara Baptiste, a Newsday copy editor, Pamela Granda, a MSNBC video associate producer, and Sophia Rosenbaum, Time Inc. news desk editor.