IMA alumna Sarah Friedland and IMA student Jay Weichun's film, Words From Jafar will be part of the NOW! Cinema Screening at Interference Archive on Dec. 19th, at 7:30pm.
"Now! Cinema explores the ways in which filmmakers use their work to respond to the political struggles of our present moment. All films within the program were created in the aftermath of the death by police of 18-year old Michael Brown. Now! Cinema responds to crisis. Now! Cinema offers the radical reply."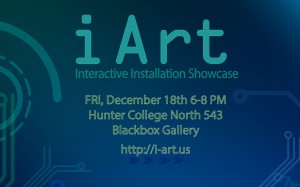 iArt Show features work created by the undergraduate and graduate students in the Interactive Installation course.
Dec. 18th from 6 to 8PM
The Blackbox Gallery (Room 543) at Hunter College
695 Park Avenue, North Bldg Entrance
FREE EVENT



Read More