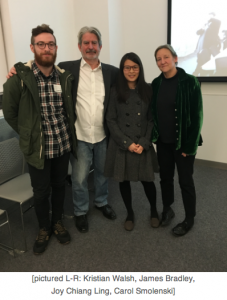 The mPathy Project, a WebServes' initiative, announced the winners of its first app challenge at a Challenge Showcase on Nov. 30th at Google-NYC.
All the three finalists are Emerging Media and Computer Science students at Hunter College. Joy Chiang Ling's prototype will be sponsored for full development and deployment by end-users in the target sectors. The other finalists included Asmaa Abbas (2nd) and Kristian Walsh (3rd).
The Challenge, hosted by ECPAT-USA, prompted participants to design a prototype for a web/mobile app that would be used by the hospitality/tourism/transportation industries to combat the commercial sexual exploitation of children (CSEC). ECPAT-USA is a leading anti-trafficking policy organization in the United States working to protect every child's basic human right to grow up free from the threat of sexual exploitation and trafficking.