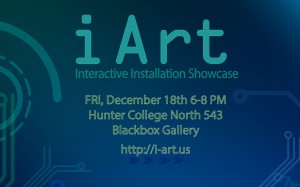 iArt Show features work created by the undergraduate and graduate students in the Interactive Installation course.
Dec. 18th from 6 to 8PM
The Blackbox Gallery (Room 543) at Hunter College
695 Park Avenue, North Bldg Entrance
FREE EVENT




The students will exhibit their work at the i-Art show. The show addresses socio-political concerns through interactivity.
The students have designed, hacked, soldered, patched and coded their way through Prof. Sha Sha Feng's Interactive Installation class. Focusing on the current state of technology, the students work together on their projects and learn from each other in a collaborative lab environment. Throughout the course, the artists gain knowledge of computing concepts, manipulating video and sound, and hacking existing technology to engage the hands-on process of creating interactive artwork. The students have applied their learned computer programming skills to their artistic backgrounds and have created unique interactive art installations that will be on display.
Artists:
Lori Brungard – Global Warming Dunking Booth
Kat Celona – Interactive Dollhouse
Crystal Grant – Secrets Room
Theresa Loong – Bought / Broken
Shaun Persaud – Communicating Surveillance
Jessie Reyes – Brought to You By
Kevin Venkatesh – Vibe
Enter the Blackbox and experience the world through interactive works of art.