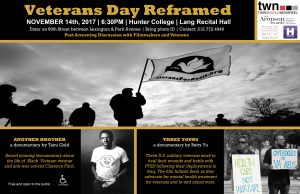 Lang Recital Hall at Hunter College, NYC
69th Street between Lexington & Park Ave
November 14th, 2017 at 6:30 PM
Free & Open to the Public
Bring ID to enter building
Veteran's Day Reframed will screen two films that follow U.S. military veterans returned from two different wars – the Iraq war and the Vietnam war – suffering from the trauma of their service, and becoming activists and advocates for peace and treatment for veterans. There will be a post-screening discussion with the Filmmakers and Veterans.

Three Tours by Betty Yu reflects on three U.S. military veterans work to heal their wounds and battle with PTSD following their deployments in Iraq. Another Brother by Tami Gold is an award winning documentary about the life of Black Vietnam veteran and anti-war activist Clarence Fitch.