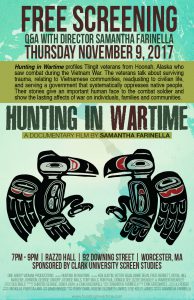 IMA alumna Samantha Farinella's documentary film Hunting in War Time and short film May 22, 2012 will be both screening at FilmFest 52 in Bethel, Connecticut. There will be a pre-screening meet-and-greet with Farinella and a post-screening Q&A. Hunting In War Time also won the 2016 The Aronson Awards – Documentary Feature.
On November 10th,  Hunting in War Time will be screening at Razzo Hall in Worcester, Massachusetts.
Hunting In War Time profiles the incredible stories of Tlingit Native Americans from the village of Hoonah, Alaska who served in the Vietnam War. Their stories confront the complexity of serving a country that systematically oppressed them; from forbidding Tlingit language, to over logging, to laws that robbed returning vets of their ancestral trade of fishing.
May 22, 2012 narrates a daughter reflecting on the day she lost her mother.
November 9th screening in Bethel Cinema
269 Greenwood Ave, Bethel, CT
6 PM Greet and Meet
7 PM Film and Q&A
November 10th screening in Razzo Hall
92 Downing Street, Worcester, MA
7 – 9 PM
(free and open to the public)