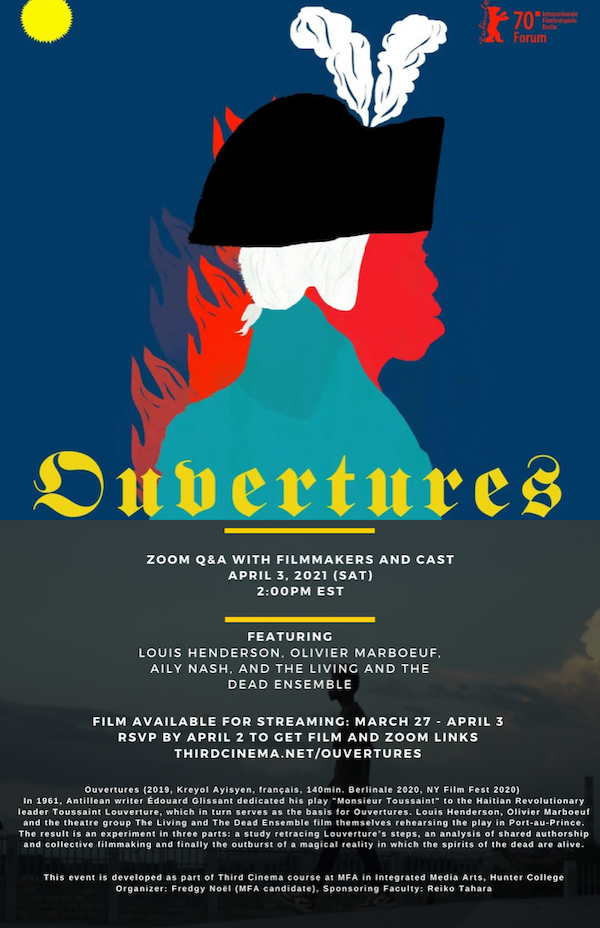 An invitation to learn about Haiti's decolonial history and fighting spirit
Feature Film: Ouvertures
by The Living and The Dead Ensemble

Film Streaming: March 27th-April 3rd
Q&A: April 3rd | 2PM | Online
RSVP: http://thirdcinema.net/ouvertures/
In 1961, Antillean writer Édouard Glissant dedicated his play "Monsieur Toussaint" to the Haitian Revolutionary leader Toussaint Louverture, which in turn serves as the basis for Ouvertures. Louis Henderson, Olivier Marboeuf and the theatre group The Living and The Dead Ensemble film themselves translating and interpreting the play in Kreyol, and rehearsing it in Port-au-Prince. The result is an experiment in three parts: a study retracing Louverture's steps, an analysis of shared authorship and collective filmmaking and finally the outburst of a magical reality in which the spirits of the dead are alive.
This event is developed as part of Third Cinema course at MFA in Integrated Media Arts, Hunter College
Organizer: IMA student Fredgy Noël, Faculty Sponsor: Prof. Reiko Tahara
The event is made possible by The Film & Media Dept., IMA-MFA, and Hunter's SAF Fund