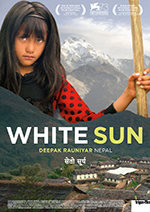 IMA student and Nepalese writer-director Deepak Rauniyar will showcase his multi award-winning feature film White Sun at the Museum of Modern Art.
Rauniyar's second feature frames the damage done to Nepalese society by the decade-long civil war between the Maoists and Nepal's monarchical government.
White Sun was Nepal's entry for the 90th Academy Awards in the Best Foreign-Language category, and received Interfilm Award at the Venice, the Silver Screen Award for best film at Singapore, the New Voices/New Visions Grand Jury Prize at Palm Springs, and the Audience award, Don Quixote award, and Ecumenical jury award at Fribourg Film Festivals.