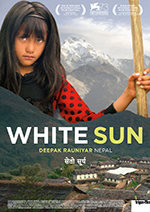 IMA student and Nepalese writer-director Deepak Rauniyar will showcase his multi award-winning feature film White Sun at the Museum of Modern Art.
Rauniyar's second feature frames the damage done to Nepalese society by the decade-long civil war between the Maoists and Nepal's monarchical government.
White Sun was Nepal's entry for the 90th Academy Awards in the Best Foreign-Language category, and received Interfilm Award at the Venice, the Silver Screen Award for best film at Singapore, the New Voices/New Visions Grand Jury Prize at Palm Springs, and the Audience award, Don Quixote award, and Ecumenical jury award at Fribourg Film Festivals.
The film has also been screened in over 50 film festivals across the world since its premiere at the 2016 's Venice Film Festival, including Toronto, Dubai, Hong Kong, Sydney, Palm Springs, Edinburgh, Busan, Goteborg, and Karlovy Vary Film Festivals.
Wednesday, September 6, 7:30 p.m. (Q&A with the filmmaker)
Thursday, September 7, 4:30 p.m.
Friday, September 8, 7:30 p.m.   (Q&A with the filmmaker)
Saturday, September 9, 4:30 p.m.
Sunday, September 10, 1:30 p.m.
Monday, September 11, 7:30 p.m.
Tuesday, September 12, 4:30 p.m.