Upcoming spotlight series on Politics, Policy and the Arts co-presented by Arts Across the Curriculum, Roosevelt House, and co-produced by the F&M Department. The series kicks off with a panel on War & Witnessing in the Lunch will be provided. Please RSVP to ppa@roosevelthouse.hunter.cuny.edu.
Weds. Oct 7th 1-3PM
TV Studio (HN436)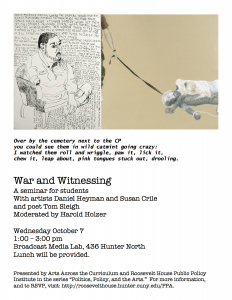 The panel will feature presentations by artist Susan Crile, poet Tom Sleigh, and artist Daniel Heyman, and will be moderated by Roosevelt House's new director, historian Harold Holzer.
The series Keynote is next week – a conversation between artist Tania Bruguera and visual artist (and Hunter professor) Paul Ramirez Jonas – to be held on Friday, October 9th from 6 – 8 PM at Roosevelt House.