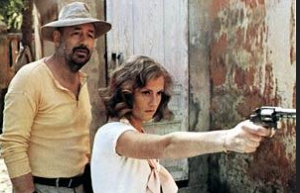 Please join Arts Across the Curriculum and the Departments of Romance Languages and Film and Media for an evening with acclaimed film director Bertrand Tavernier. Mr. Tavernier will discuss his film Coup de Torchon (1981) with Professor Lynn Higgins, author of Bertrand Tavernier (Manchester University Press, 2011).
Coup de Torchon stars Philippe Noiret and Isabelle Huppert in an inspired, neo-noir adaptation of Jim Thompson's novel Pop. 1280. Changing the geographical setting from the American South to French West Africa, Coup de Torchon tells the story of an inept police chief and his feisty girlfriend as the chief turns into a heartless killer.

Bertrand Tavernier is a major contemporary French director whose oeuvre spans multiple genres, from police procedurals ( L.627 ) to dramas of the Occupation ( Safe Conduct ), combat epics ( Capitane Conan ) and biopics ( 'Round Midnight , starring Dexter Gordon). Mr. Tavernier's most recent feature, The French Minister , will close this year's Rendez-Vous with French Cinema at Lincoln Center.
Lynn A. Higgins is Frank J. Guarini Associate Dean of the Faculty for International and Interdisciplinary Studies and Edward Tuck Professor of French at Dartmouth College. She is the author of numerous publications, including the influential New Novel, New Wave, New Politics: Fiction and the Presentation of History in Postwar France (U Nebraska Press, 1996). She is currently at work on a book project dealing with the French scriptwriting team Jean Aurenche and Pierre Bost.
Event Details:
Monday, March 10, 5-7:30pm
The Insdorf Screening Room, Chanin Language Center
Room B126, Hunter West
Reception to follow
Kindly RSVP to fl61@hunter.cuny.edu by Friday, March 7.