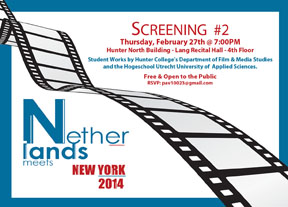 Sixteen students from a top-ranked university in the Netherlands will hone their skills in media arts during an 14-day program at Hunter College, sponsored by the Department of Film and Media Studies. The students will be led by John Driedonks, and Hunter graduate Brian Maston, who earned a Hunter BA in Film (2003) and now teaches as a senior lecturer in Film and Media Studies at the Hogeschool Utrecht—the Utrecht University of Applied Sciences.
The sixteen students, who will be at Hunter from February 15-28, will attend journalism and film/video production courses taught by faculty at Hunter College and the CUNY "J" School. They will produce documentary shorts or video news stories that will be screened along with student work from the Hunter College Department of Film and Media Studies.
The first screening will be held on Thursday, February 20, at 7:00 pm at Lang Recital Hall; the second on Thursday, February 27, at 7:00 pm at HN-502 Screening Room. Both screenings will occur in the Hunter North Building, on the 68th Street Campus and are free and open to the public. A list of directors and screening titles will be forthcoming.
For further information, contact David Pavlosky, Program Manager at pav10023@gmail.com
Films:

Missed; Tyler Byrnes
Full Tilt; Wendell Cooper
Tear Pushers; Helena Kincaid & Bryan Powers
Garbage Girl; Christopher Nostrand
Phil Wiggins: The Key of Blues; Jon Novick & Heather McCown
Freedom of Press; Jiri Glaap & León Mastik
Tabula Rasa; Joost Scheffers & León Mastik
Kytopia;Cedric van der Ploeg
Pink Panic; Liza de Boer & Cedric van der Ploeg
Basta/Masters of LXRY; Wesley Scholte
Amsterdam Fashion Week ;Benjamin Kamps
Lady in Red; Sam Hagens
Yellow; Jiri Glaap & Daan Langkamp
Monster Wheel Chair; Daan Langkamp
Cows; Annemarie de Wit
Leah; Jing Wang
Colouring the Bronx; Rikki Hendriks & Nicole Tegalaar
The What If and Never Was; Shannon Sonenstein & Kim Baglieri
Polluted Point; Daan Langkamp & Jiri Glaap
Sling; Tyler Byrnes
Pratt: One Year Later; Liza de Boer & Cedric van der Ploeg
Music Under New York; Benjamin Kamps
Unity Is the Challenge; Tim Toet & Ibrahim Diallo
El Maestro; Annemarie de Wit & Joost Scheffers
You Don't Have To Wall Out; Natalie Conn
Women's Happy Hour; Laurens Ippel & Wesley Scholte
Lucien; Pieter Munnik, Leon Mastik & Sam Hagens
Silent Exposure; Christopher Nostrand & Kayoko Nakamura