Prof. Ricardo Miranda's artwork is on exhibit at GAZELL.iO Project Space in London.
DiMoDA 4.0: Dis/Location
Thurs., Feb. 3 | 6-8PM
RSVP for private viewing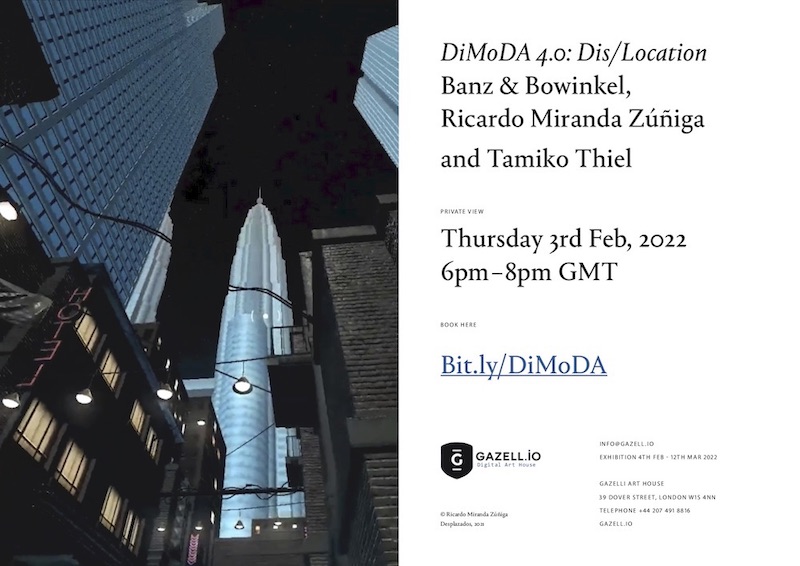 DiMoDA 4.0, curated by Christiane Paul, comprises three artworks — by artists Banz & Bowinkel, Ricardo Miranda Zuniga, and Tamiko Thiel — addressing the theme of Dis/Location, the feeling of displacement from or disturbance of a proper, original, or usual place that has become a defining experience of our time. The projects explore issues from gentrification and evolution to perceptions of space afforded by technologies.
Users explore displacement from neighborhoods; the shifts occurring in the evolution of the earth from its creation to the Anthropocene; as well as our communication with the binary operations of computers.Users enter a virtual museum embedded in a city block of derelict New York townhouses and access the three embedded projects through portals in the museum structure. In Ricardo Miranda Zuniga's Incertidumbre they navigate a VR version of New York City's Lower East Side where they activate location-specific audio interviews (the personal accounts of inhabitants) through proximity. In Tamiko Thiel's Atmos Sphaerae users go on an abstracted visual voyage through the evolution of the earth and creation myths—from the big bang to protoplanetary gases and the earliest life forms—culminating in scenery of oil rigs and an atmosphere of water vapor and greenhouse gas. And Banz & Bowinkel's the grid transports users into the consciousness of a computer where they interact with machinic avatars, experiencing the disarticulation in our communication with the binary operations of computers.