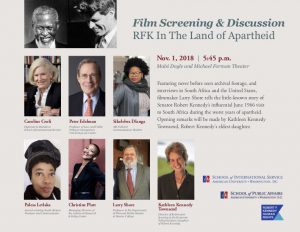 Prof. Larry Shore will be screening his film RFK In The Land of Apartheid followed by a discussion.
Nov. 1, 2018 | 5:45 p.m.
Malsi Doyle and Michael Forman Theater
American University, Washington, D.C.
Featuring never before seen archival footage, and interviews in South Africa and the United States,filmmaker Larry Shore tells the little-known story of Senator Robert Kennedy's influential June 1966 visit to South Africa during the worst years of apartheid.
Opening remarks will be made by Kathleen Kennedy Townsend, Robert Kennedy's eldest daughter.