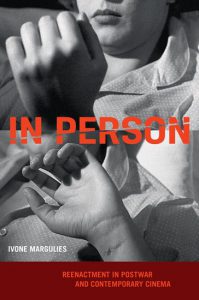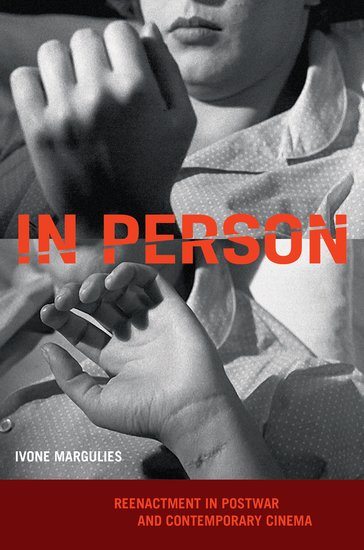 Prof. Ivone Margulies' book In Person: Reenactment in Postwar and Contemporary Cinema will be available December 5th, 2018.
Book launch: Feb 1, 2019 | 6PM at Anthology Film Archives.
7:15PM: Prof. Margulies will be introducing the film series In Person-Reenactment starting with Abbas Kiarostami's Close up.
Feb. 1 -12: Anthology will be showing all of the films featured in the book.
It is featured on The New Yorker, The New York Review of Books and The New York Times.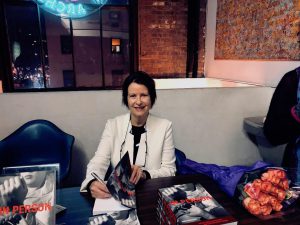 About the Book:
Close readings of select, historicized examples define an alternate, confessional-performative vein to understand the self-reflexive nature of postwar and post-holocaust testimonial cinemas. The book contextualizes Zavattini's proposal that in neorealism everyone should act his own story in a sort of anti-individualist, public display (Love in the City and We the Women). It checks the convergence between verité experiments, a heightened self-critique in France and the reception of psychodrama in France (Chronicle of a summer and The Human Pyramid) in the late fifties. And, through Bazin, it reflects on the quandaries of celebrity biopics: how the circularity of the star's iconography is checked by her corporeal limits (Sophia her Own Story and the docudrama Torero!).
In Person traces a shift from the exemplary and transformative ethos of fifties reenactment towards the un-redemptive stance of contemporary reenactment films such as Lanzmann's Shoah, Zhang Yuan's Sons, Andrea Tonacci's Hills of Chaos. It defines continuities between verite testimony (Chronicle, and Moi un Noir) and later para-juridical films such as the Karski Report and Rithy Panh's S21, the Khmer Rouge Killing Machine suggesting the power of co-presence and in person actualization for an ethics of viewership.
Quotes about the book:
"Inventive, incisive, subtle. An essential book for understanding what is at stake when a person replays her own past on camera. At that fertile place where aesthetics and history meet, Margulies offers us an exceptionally relevant analysis of post-Holocaust cinema."  – Sylvie Lindeperg, Professor, University of Paris 1 Panthéon-Sorbonne
"Margulies demonstrates just how complex this question is with richly interdisciplinary research, an amazing range of examples, and an astounding number of insights. This book is destined to be a classic." – Bill Nichols, author of Introduction to Documentary, 3rd edition
"This most necessary book will serve as the foundation for any future study of the cinematic mode of reenactment. Margulies moves artfully among the discourses of realist cinema and documentary, theater and performance studies, genre theory, contemporary philosophy and therapeutic practice with a globe-spanning analysis of the existential quandaries to which this fascinating style of filmmaking gives rise." – Jonathan Kahana, author of Intelligence Work: The Politics of American Documentary and editor of The Documentary Film Reader: History, Theory, Criticism
"Margulies book makes a timely and original argument for the Humanities by offering a new assessment of the powers and responsibilities of the arts. It will be essential reading in many fields of inquiry beyond its obvious relevance to film studies: Holocaust studies, genre studies, theater, anthropology, and each of the many national cinema traditions and individual filmmakers considered." – Lynn Higgins, Dartmouth College