Do you ever wish you could reach out and touch the art in a gallery space? What if you were encouraged to play and interact with artwork to help bring it to life?
If you missed the show, here's video from the iArt Show on Dec. 14th, 2018 from the students of Interactive Installation class: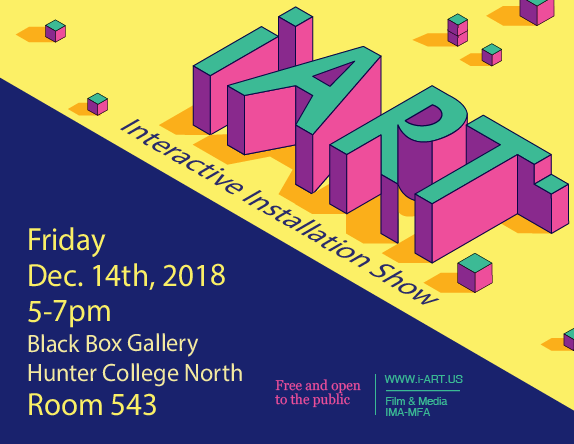 Fri, Dec 14th | 5-7PM
Black Box Gallery
Hunter College North, Room 543
Free and open to the public
http://i-art.us
Please join the students of Interactive Installation class at Hunter College's IMA-MFA and Film & Media programs for the 2018 Fall iArt Show. This exhibit highlights the power of the interactive form to connect people by bridging the gap between artists and the public.
Using a variety of elements including, video, sound, lights and graphic design, the projects promote a sense of curiosity by asking the public to engage with the site specific installations.
Artists Include:
Rola Zyada, Amanda Madden, Girard Tecson, Lauren Smith, Fabio Silva, Syeda Ali, Gabriela Gavidia, Chieh-Chun Lee, Belinda Liang, Jialing Lu, Salvador Munoz, Nicky Zou, Eddy Kijowski, Alessandra Vertrees