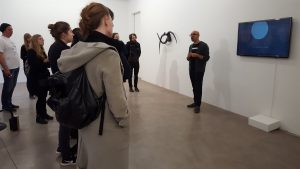 Prof. Andrew Demirjian presented his work – part of VIDEOKAFFE at Galerie Anhava in Helsinki – Nov. 24th-Dec.18th.
Smash the State with Line and Shape, 2016
(Andrew Demirjian – in collaboration with Sha Sha Feng)
Code, web, toothpicks, Arduino, magazine clippings, web cameras and servo motors
This piece is a networked conversation between two devices, one at Galerie Anhava and the other at Hunter College NYC, in the physical computing lab. They are brought together through live streaming online. The work is a sketch for a larger networked conversation. The work will grow at Galerie Anhava to include additional devices in the circuit.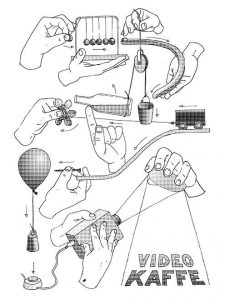 Color Yourself Inspired TM, 2016
(Andrew Demirjian – in collaboration with James Proctor)
HMTL CSS, JavaScript, D3
A generative artwork that creates poetic phrases from Benjamin Moore's color gallery database. The piece is built from an online collection of over 1000 unique color names and shades, it uses natural language processing to build surprising phrases that produce the imagery and sound. The words and phrases of the colors are like a database of Western cultural connotations for optical perception, a compendium of American values and perspectives that evoke pleasure, leisure, memory and fantasy…