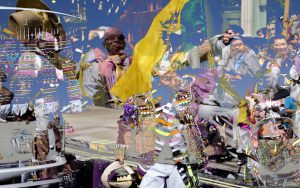 Prof. Demirjian will be presenting work from his forthcoming book of poems and music, Pan-Terrestrial People's Anthem. The work remixes the national anthem lyrics and music from across the globe, a corpus of 27,523 words from 195 songs. The book/music will be released in May on Contour Editions.
Thursday, April 19th at 7 PM
Location: Babycastles 145 W 14th St., New York, NY
WordHack is a monthly evening of performances and talks exploring the intersection of language and technology. Code poetry, digital literature, e-lit, language games, coders interested in the creative side, writers interested in new forms writing can take, all are welcome here.