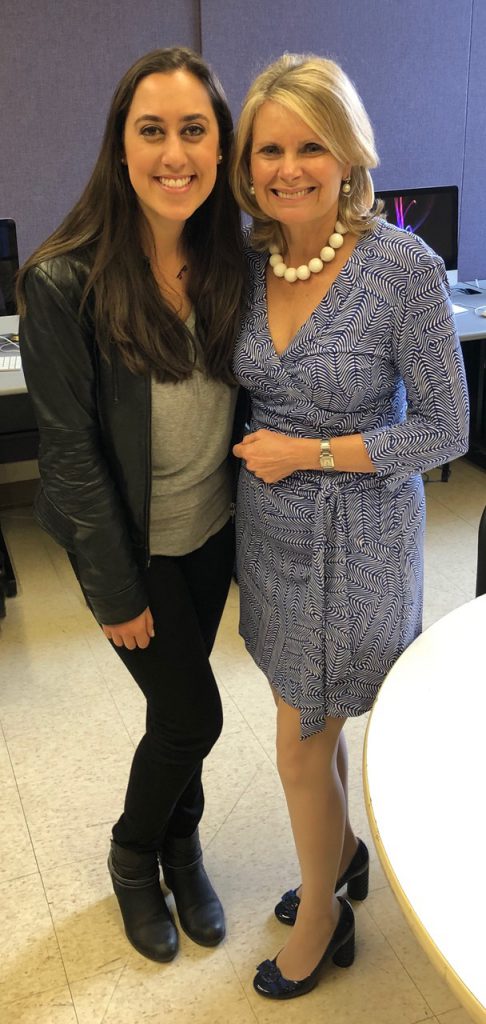 News 12 Brooklyn's multimedia journalist Emily Lorsch knows a few things about working under pressure and on deadline. "Sometimes I have to do a live shot and a quick story 15 minutes after getting to the scene of breaking news," says Lorsch, who spoke to MEDPL 202 Reporting and Writing 2 students last Monday.
Lorsch studied journalism with Professor Sissel McCarthy at Emory University and started her on-air career at Binghamton, New York in 2014. "I learned so much in that small market, and it wasn't competitive at all. All the reporters helped each other out," says Lorsch, adding that's not always the case in New York City, the country's number one market.
When Lorsch does a story for News 12, she usually shoots all the video and interviews and even her own stand-up herself. She has a mental checklist that she shared with MEDPL students who are about to do their first visual story using only a smartphone.
"I always look for a character," Lorsch says. "And then I think about how to make the story emotional." As for the visuals, her first shot is always one that shows the entire scene, often an overhead view if possible. Then she films anything that may not be happening later, paying close attention to capture nat sound. Her next step is to do the interviews and then film her sources in action. Finally, she uses cutaway shots, which are close-ups that come in handy during the editing process. "My favorites are signs, flyers, tight shots of faces, and hands of people taking notes," Lorsch says.
Professor McCarthy's students will be posting their own visual stories on our YouTube channel, Hunter College Journalism, next week.