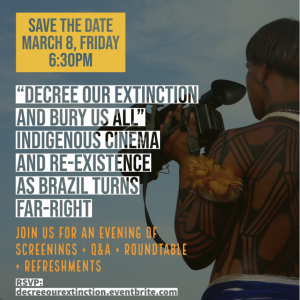 Fri., Mar. 8th | 6:30PM | Lang Hall HN424
Overflow tickets are available for the TV studio HN436
RSVP for TV studio

SOLD OUT! RSVP for FREE tickets for Lang Hall
Join us for an evening of indigenous film screenings, Q&A with the filmmakers, a roundtable discussion followed by a reception over refreshments.
Guest speaker from Cinema Studies, Visual Anthropology, Etnography, Political Sciences will discuss indigenous issues and indigenous cinema in the face of the rise of far-right governments in both Brazil in the Americas more generally.

This event is sponsored by Eyespeak, the IMA, the Film and Media Studies Department and the Hunter Student Engagement Fund.