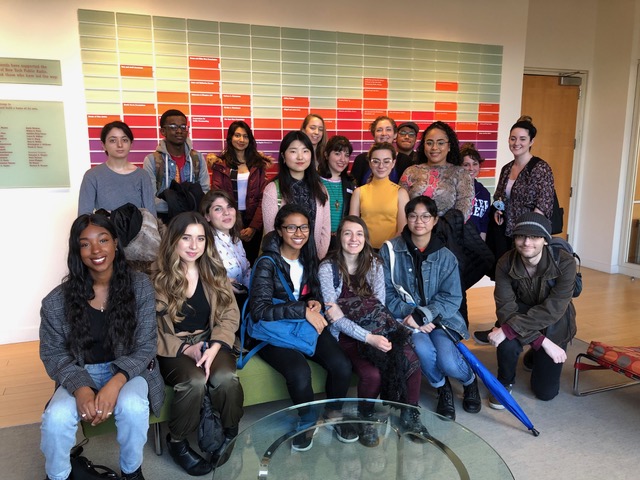 Breaking news and two celebrity sightings made this year's tour of WNYC extra exciting for Professor Sissel McCarthy's journalism students.
Rebecca Weiss, a senior listener services associate, welcomed students and showed them around the newsroom just as news about the fire at the Notre Dame cathedral in Paris was breaking. Students also peeked in on Alison Stewart's show called "All of It", described as a daily conversation about culture in New York.
The visit included a talk with transit reporter Stephen Nessen who told students about his beat, which covers everything from Uber and Lyft to congestion pricing and the ubiquitous MTA. Nessen often interviews New Yorkers for his stories and shared some tips on getting good vox pops. "I don't want to brag, but I am known as being pretty good at getting vox pops," said Nessen who explained "vox populi" literally means voice of the people in Latin and refers to short soundbites with members the public. The first thing he told students is to get over getting rejected and walk up confidently to your target. "Make eye contact and be really clear with specific questions that do not have yes/no answers," Nesson said. "Follow up and don't write anyone off if their first answer isn't that great."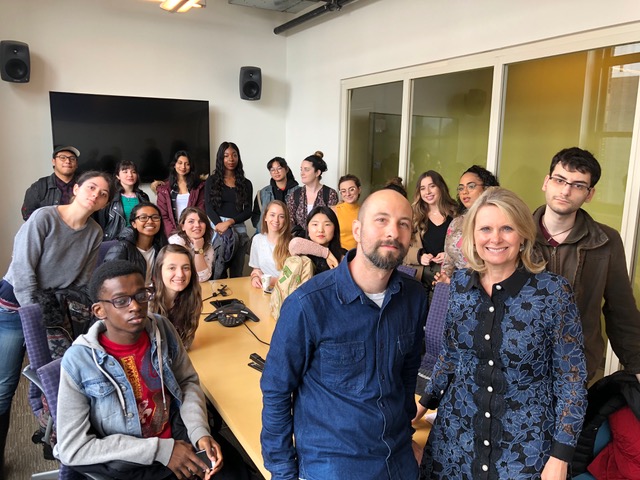 As for the celebrity sightings, students ran into Jeff Daniels who is starring in the Broadway play "To Kill a Mockingbird" while walking through the newsroom. Then on the way out, they rode down in the elevator with Alec Baldwin who couldn't have been nicer and asked students where they went to school and what they were studying. They proudly answered journalism at Hunter College.