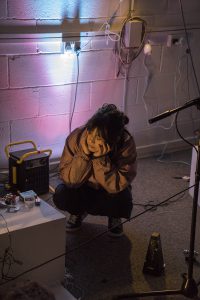 Japanese artist Elico Suzuki will present and perform an installation in the Black Box (HN543)
Date: Thursday, February 8th
Time: 8-9PM
Elico Suzuki (aka. suzueri) is a Tokyo based sound artist. She studied
Fine Art at Musashino Art University in Tokyo and Media Art at the
Institute of Advanced Media Arts and Sciences (IAMAS) in Ōgaki, Gifu,
Japan.
Her recent interests have centered on the exploration of the
gaps and narrative aspects between the interaction of instruments and
particular embodiments, for which she both performs and makes art work
– these involve her making complex interfaces with various handmade
devices that play with pianos and other instruments. She is also well
known as an improvised musician and recent releases include, "Live at
Ftarri" with Roger Turner, Tetuzi Akiyama, and Makoto Oshiro (Ftarri,
2016); and "Two Before the Fourth" with Edward Lucas (IKLECTIK, 2017).
http://suzueri.org