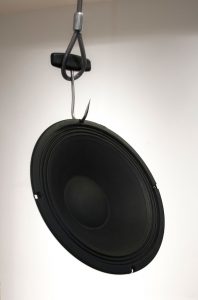 Space as Material: An Evening of Spatial Sound Works
Tuesday, Feb. 20th, 2018
7 PM Black Box (HN543)
8 PM TV Studio (HN436)
Two leading figures in the field of spatial sound come to Hunter College to create immersive, large-scale works. Sound is used to heighten listeners' spatial awareness and encourage a focused listening practice from within an encompassing field. Both composers take a different approach to surround sound studio composition than the more typical one that attempts to represent "virtual" space and aims for transferability into a variety of settings, including the concert hall. Instead, Neumann's and Schumacher's pieces represent, not sound in space, but rather space in sound.
Daniel Neumann will be creating CHANNELS.applied #01, a site-specific, 8-channel audio piece that uses speakers-as-instruments to resonate the vast Black Box space. CHANNELS.applied is Neumann's new continual composition piece that he initiated in January 2018. Using a given sonic material, expanding the material over multiple iterations (installation, performances, recordings) through audio procedures, and continually re-applying it to new sites, systems and situations has been Neumann's main compositional strategies. Each iteration is responsive to its concrete surroundings as well as the different speaker types and systems. The morphing and accumulating sound material is re-applied again to ever new listening situations.
In the TV Studio, Michael Schumacher will be presenting his new work 'Variations' with the 'portable multi-channel sound system', a complete 12-channel system that fits in a suitcase. This set of pieces applies the classical idea of variation to spatialization techniques. Sounds – sonorities, motifs, phrases – are transformed through placement in a variety of sonorous spaces, which act somewhat like filters, emphasizing specific perceptual aspects. in contrast to the classical method there are no clearly stated "themes", but rather a continual process of spatial redistribution.
Bios: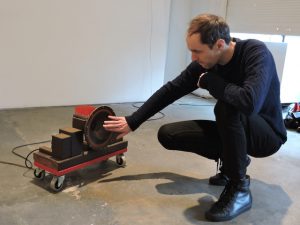 Daniel Neumann is a Brooklyn-based sound artist, organizer and audio engineer. He holds a masters degree in media art from the Academy of Visual Art Leipzig and also studied electronic music composition. Neumann's practice engages hybrid installation-performance formats to explore how sound interacts with space and how spaces can be shaped by sound. He thinks of sound as an intersubjective field enabled by audio procedures. Neumann's works have been presented at Pinacoteca Bellas Artes Universidad de Caldas, Loop Barcelona, Moss Arts Center Blacksburg VA, Fergus McCaffrey Gallery, MoMA PS1, Knockdown Center, Pratt Institute, Eyebeam, Sculpture Center, Fridman Gallery and many other venues. As a curator, Neumann runs CT::SWaM (http://ctswam.org), an event series that engages in spatial sound works and focused listening. In September 2016 he co-curated 9 Evenings + 50 at Fridman Gallery. As a sound engineer, Neumann is the acoustic designer of The World Is Sound at the Rubin Museum and engineer for Blank Forms, Alarm Will Sound, Diamanda Galás and David Guetta. In 2013-16, he was the head engineer for live events at MoMA PS1. http://danielneumann.org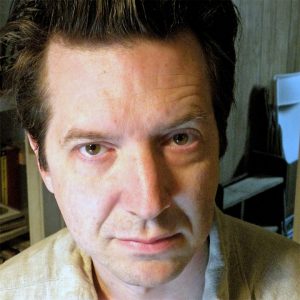 Michael Schumacher's installations saturate space with sounds that present the listener with the possibility of hearing relationships that are meaningful. He received his DMA from The Juilliard School, his BM in Composition from Indiana University and has studied with Milton Babbit, Shigeo Neriki, Barry Vercoe, Hubert Howe and La Monte Young. His sound installations have been exhibited at The Sound Art Museum in Rome, Italy, the Artifact Festival in Leuven, Belgium, MOT in London, UK, the Museum of Contemporary Art in Lyon, France amongst many others. He has received The Experimental Television Center Finishing Fund Grant, CEC Artslink Award, NYFA Fellowship, RPI iEAR Residency, Harvestworks Artist-in-Residency and the New Jersey State Council on the Arts Fellowship. Michael has performed with Stephen Vitello, Joan La Barbera, Tim Barnes, Kato Hideki and Kaffe Matthews.