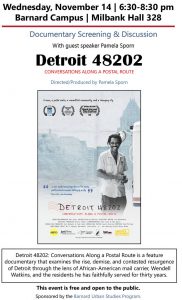 IMA alumna Pam Sporn's documentary Detroit 48202 will be screening followed by discussion:
Weds., Nov 14th | 6:30PM
Barnard Campus | Milbank Hall 328
SYNOPSIS:
In DETROIT48202 we take a journey with Wendell along his route, which winds through the center of what was, once upon a time, a vital and thriving city. We listen in on his conversations with his customers – the resilient Detroiters who share stories of resistance: pushing back against racial segregation in housing; challenging industrial and political disinvestment; and living on reduced pensions as a result of the 2014 municipal bankruptcy. Our characters share stories of hope and propose creative ways to re-imagine an inclusive, productive, equitable and re-invigorated city.