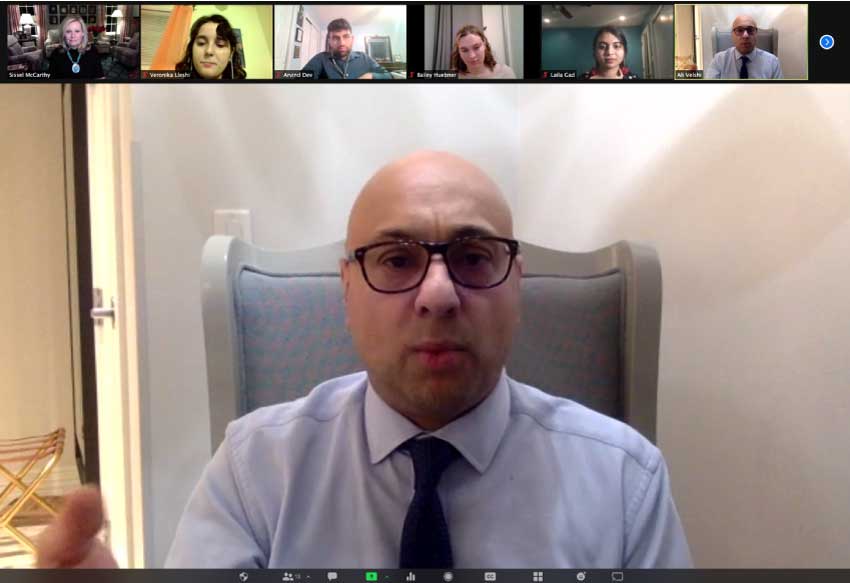 More than 50 students turned out to hear journalist Ali Velshi talk about his long and storied reporting career with CNN and MSNBC, in a riveting discussion moderated by former CNN correspondent Mary Snow followed by a Q&A moderated by Professor Sissel McCarthy.
Velshi's reporting from Minneapolis in the wake of George Floyd's murder last May, where he and his news crew were attacked at shot at with rubber bullets by Minneapolis police merely for doing their jobs, resonated with students the most. "Seeing the police fire on the media was surprising to me," one student wrote of the clip Velshi showed of his team in Minneapolis. "I guess it was the first time I noticed the distrust and disdain for the media held by some Americans." Others were impressed that President Donald Trump knew of Velshi enough to slander him publicly at a rally. "Yes, there may be some issues with media and journalism, but it should never be a reason to discredit them in such a manner," one wrote.
Despite these attacks, Velshi's steadfast dedication to his work also struck many of the attendees. "Rather than fearing violence, the attack motivated him to work harder," one student wrote. "He said that it was his job as media to uncover the truth."
At least one student felt the discussion could have done more to address more Conservative points of view, offering that some of the news clips were shown without full context and that questions should have been posed to Velshi that might have put more pressure on him. But this student, too, found the discussion both an enlightening and useful part of his education in journalism.
Several students were impressed by Velshi's intention to help his viewers feel smarter, more intelligent, and better informed. "It was like he does it for others, not fame and not himself," one wrote.
And one takeaway that anyone can put into practice, another noted, was the importance of "small ball" — getting your daily task done, no matter how small. "It's just good to make sure that it gets done for that day," she wrote, summarizing what she understood Velshi to mean, "and eventually people will see that work ethic in you."