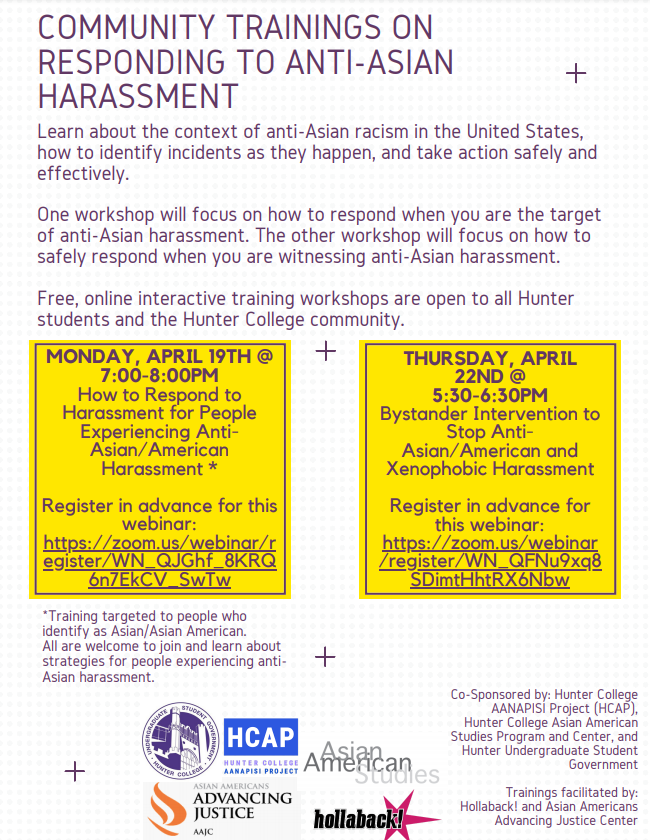 In response to the sharp and sustained rise in anti-Asian harassment, Hunter College is partnering with Hollaback! and Asian Americans Advancing Justice Center to offer trainings to learn about the context of anti-Asian racism in the United States, help people identify incidents as they happen, and take action safely and effectively. These free, online trainings are open to all Hunter students and the Hunter College community.
Training Descriptions:
Monday, April 19th @ 7:00-8:00pm – How to Respond to Harassment for People Experiencing Anti-Asian/American Harassment
During this interactive training you'll learn Hollaback!'s methodology for responding to anti-Asian/American harassment: 1) Trust your Instincts, 2) Reclaim Your Space, and 3) Practice Resilience. You'll learn how your identities can shape your experience of harassment and the impact that harassment has on you and your community as a whole. We'll talk about what to look for when assessing your safety, and how to determine if responding in the moment is the right action or not. We'll also take a deep dive into how to build your resilience on an individual, interpersonal, organizational, community, and societal front. You'll leave with new tools on how to respond to harassment, whether your response is in the moment while that harassment is happening or long-term.
Register in advance for this webinar:
https://zoom.us/webinar/register/WN_QJGhf_8KRQ6n7EkCV_SwTw
The content of this training is targeted to people who identify as Asian/Asian American. All are welcome to join and learn about strategies for people experiencing anti-Asian harassment.
Thursday, April 22nd @ 5:30-6:30pm – Bystander Intervention to Stop Anti-Asian/American and Xenophobic Harassment
This interactive training will teach you Hollaback!'s 5Ds of bystander intervention methodology. We'll start by talking about the types of disrespect that Asian and Asian American folks are facing right now — from microaggressions to violence — using a tool we call the "spectrum of disrespect." You'll learn what to look for and the positive impact that bystander intervention has on individuals and communities. We'll talk through five strategies for intervention: distract, delegate, document, delay, and direct; and how to prioritize your own safety while intervening. We'll have time at the end for practice, and you'll leave feeling more confident intervening the next time you see Anti-Asian/American harassment online or in person.
Register in advance for this webinar:
https://zoom.us/webinar/register/WN_QFNu9xq8SDimtHhtRX6Nbw
Co-Sponsored by: Hunter College AANAPISI Project (HCAP), Hunter College Asian American Studies Program and Center, and Hunter Undergraduate Student Government
Closed captioning (in English) will be offered. For questions, please contact HCAP Program Director, Caitlin Ho: ch1322@hunter.cuny.edu