Month:
February 2019
Prof. Tami Gold's documentary Passionate Politics: The Life and Work of Charlotte Bunch will be screening at Brooklynese on March 18.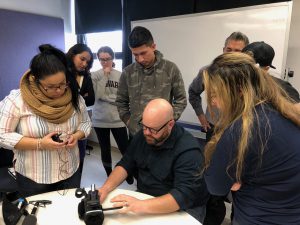 Great Big Story photojournalist Jonathan O'Beirne loves telling stories with camera, and by all measures he's gotten pretty good at it with some of his stories viewed more than 10 million times. CNN launched the global media company Great Big Story in 2015 to tell stories that transcend borders. O'Beirne joined the team nearly three years ago and attributes his success to a few simples rules that he shared with Professor Sissel McCarthy's Studio News Production students.

His top tip is to always monitor your audio. "Sound is more critical than video, and people cannot tolerate poor sound," O'Beirne says. He even showed students how to set the audio on channel 1 to manual and channel 2 to auto in case something goes wrong on channel 1– an insurance policy that has saved him many times. 

O'Beirne has a mental checklist that he goes through for every scene he's shooting. First, do a manual white balance and then shoot a sequence: wide, medium, tight and then six other shots from different angles and perspectives, all held for at least 25 seconds so you have handles, the extra footage before and after a clip's in-point and out-point.

He also urged students to use their tripods for every shot. "That's the difference between an amateur and a professional," says O'Beirne, adding that he's not a huge fan of zooming, and that it's always better to walk your camera closer to a shot. Same thing for panning—let what you're shooting walk into the frame.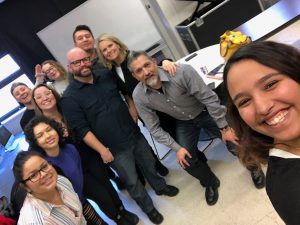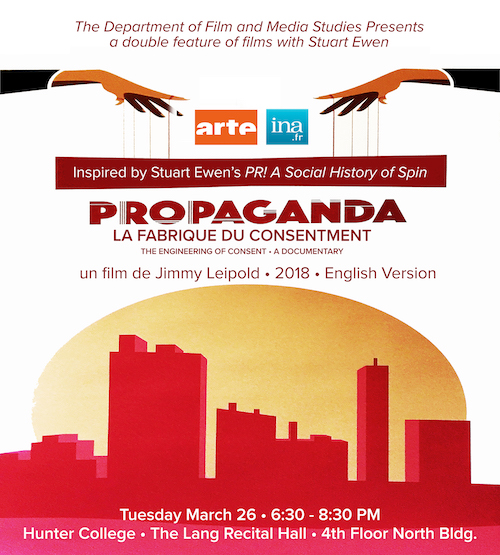 The Department of Film & Media Studies presents a double feature of films with Prof. Stuart Ewen.
Propaganda: La Fabrique Du Consentment
Tues., March 26th | 6:30-8:30PM
Lang Hall – Hunter North 4th floor
Read More